FROM STAFF REPORTS
A 50-year-old man faces nearly a dozen felony charges following an Iredell County Sheriff's Office investigation into a report that secret cameras were found throughout a home in southern Iredell County.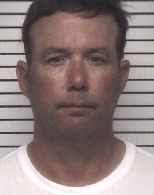 Sheriff Darren Campbell announced the arrest of Chad Allen Krantz of Breezeview Place, Mooresville, in a news release on Monday.
The ICSO received a report from a Mooresville homeowner on September 26 after hidden cameras disguised as smoke detectors were found in a residence, Campbell said. These hidden cameras were found throughout the home and were apparently used to film visitors inside the home, according to the news release.
The investigation was assigned to Special Victims Unit Detective J. Welborn. During the investigation, Krantz was developed as a suspect, Campbell said. A search warrant was conducted at Krantz's residence on September 29. Several computers, cameras and SD cards were seized as evidence during the search, according to the news release.
Based on evidence gathered in this investigation, Krant was arrested on October 14 and charged with 11 counts of Felony Secret Peeping. This investigation is continuing and more charges are expected, Campbell said.