BY DEBBIE PAGE
debbiepage.iredellfreenews@gmail.com
Troutman native Felina Harris was unanimously selected by Troutman Town Council members to complete the term of Paul Bryant, who stepped down in early December, during Monday's preagenda meeting.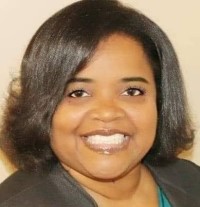 Harris, who works as an IT Customer Relationship Manager/System Analyst with the Mecklenburg County Parks and Recreation Department, will be sworn in on Thursday night. Her term will end December 31.
The council will also recognize Bryant for distinguished service during Thursday's meeting..
In her application for the vacant seat, Harris said she would be "proud to serve in such a prestigious capacity in my hometown."
Harris and her husband returned to Troutman after a few years away "to raise our boys here as there is nothing comparable to raising your family in a small, youthful, energetic town where almost everyone knows each other."
In her public interview with the council, Harris indicated her desire to "make the town better for the up and coming generation." If selected, she hoped to help the council broaden its diversity. She cited her "big personality" and love for all types of people as assets for the position.
When asked what two ideas she would like to pursue on the council, Harris said she would like to work to get an urgent care in Troutman and to get basketball courts added to ESC Park.
Harris is an active volunteer in several organizations, including serving on the Iredell Christian Ministries Board of Directors and as a member of the Circle of Giving and Delta Sigma Theta Sorority.
Part of her background will be helpful in her new role on council. Harris has extensive experience with the UNC School of Government through her leadership in the N.C. Local Government Information System Association.
Harris earned her bachelor's degree from Western Carolina University in Computer Information Systems and her Master's in Business Administration from Gardner-Webb University.
Scientist Jerry Oxsher, owner and laboratory director of LKN Extractions and a five-year Troutman resident, was also interviewed by council for the vacancy.
REVENUE UPDATE
Finance Director Steve Shealy reported that all $67,365 in COVID-19 relief money had been expended and reimbursed by the county. He does not foresee further COVID-19 funds being received at this time.
December sales tax receipts were up nearly $6,200 over last year, and property tax collections rose from $859,289 in December 2019 to $1,068,282.
Second quarter utility sales tax was up slightly over 2019, rising from $78,841 to $79,341. Water and sewer billing was down $2,537 over the previous year's December numbers.
SOUTH IREDELL GREENWAY PROJECT
West Consultants Todd Poteet and Benjie Thomas reported to council members about the upcoming N.C. Department of Transportation deadline to close out the South Iredell Greenway Project.
However, NCDOT is disallowing $100,000 in the project's paving costs (discounted 50 percent), because of "testing shortfalls" on the part of the contractor, Country Boy, and the laboratory hired by the town, Kessel Engineering Group.
This leaves the town with about $50,000 in unanticipated costs related to the project. According to Poteet, the council can hold the two parties responsible for these amounts ($29,576 from Country Boy, $19,194.22 from Kessel), forgive the amounts, or require 50 percent of these amounts from the two responsible parties.
Poteet said Kessel actually did much more testing than required, with samples collected by a certified technician, but the samples were sent to its Mooresville lab, which is not certified, rather than its certified lab in Asheville.
Kessler is talking to NCDOT about performing more testing to prove the project's integrity to avoid this penalty and indicated that NCDOT had accepted Mooresville lab results in the past.
Poteet said that confusing and contradictory guidance from various NCDOT advisers also contributed to some of the issues.
Town attorney Gary Thomas advised the council to vote to send the pay application to NCDOT, with a letter explaining that the two companies bear responsibility for the errors, to see what it will actually pay.
If some financial loss falls back on the town, the council will then have the documentation to ask Country Boy and Kessel for reimbursement for costs related to their testing errors.
The council voted 4-0 to proceed with the pay application to the state.
WAGNER STREET PROPERTY
Town Manager Ron Wyatt presented two possible plans and asked council members for their approval to start demolition and repairs on the bottom floor of the town's 151 Wagner Street building, as well as exterior repair and upgrade.
Wyatt wants to get the building business ready, either for a commercial enterprise or town use to alleviate overcrowding at Town Council.
Wyatt said town employee Paxton Hix will do most of the work to keep costs down. He estimated the project will cost bout $15,000, which will be paid from rent collected over the past few years by upstairs renters.
After demolition to remove interior walls and cabinets, improvements include installing basic lighting, new window sills, electric outlets, flooring, and new front and back doors. The project also includes painting all walls, molding, and remaining cabinetry.
Exterior repairs include front facade painting, sealing the brick, and some cosmetic work, as well as repairing or replacing leaking or broken windows.
One person has already expressed interest in the building and will tour it next week.
The interior and exterior work should take around two months.
Mayor Teross Young wants the building's exterior to set an aesthetic example for other property owners to encourage further beautification of the downtown.
Wyatt also reported that work on the new mural on the south wall of the property is expected to begin soon. In November, the council approved plans to add the Town of Troutman oar logo on a weathered gray wood grain background with the text "Welcome to Troutman" and the catchphrase "Enjoy Lake Norman … Naturally."
OTHER BUSINESS
♦ The council voted 4-0 to use its new paddle logo on all town business except official documents, which will carry the town's seal.
♦ Paul Henkel was unanimously selected to be the council's delegate to the N.C. League of Municipalities. The council voted on this item early because of a delegate training session on Tuesday.