Downtown Statesville
110 Center St., Statesville
704-873-7948
Monday-Friday: 9am-5:30pm
Saturday: 9am-1pm
Davie Ave. Statesville
911 Davie Ave., Statesville
704-873-0047
Monday-Friday: 10am-6pm
Saturday: 10am-2pm
Troutman
265 N. Main St., Suite A, Troutman
704-508-8181
Monday-Friday: 9am-5:30pm
Saturday: 9am-1pm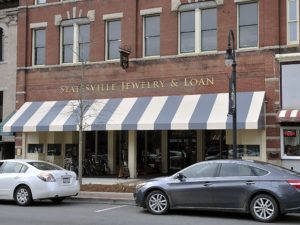 Website: www.sjlco.com
Email: mail@sjlco.com
Ownership/management information
Pawn industry expert John Marshall, who operates the company, has worked in his family's pawn business for more than 50 years, starting in high school. He returned to Statesville to operate his family business after receiving a Bachelor of Science in economics from High Point University. John participated in the development of Pawn Manager computer software by JMT Co.
Anne Marshall Soto, a managing and pawn industry professional, has continued the family tradition and has more than 21 years' experience working with customers and helping to manage the family business, specializing in jewelry design and selection.
Mark Pigg, a master goldsmith, has 29 years of experience working with precious metals and for the past three decades has designed and repaired all types of jewelry. He works closely with clients to get an understanding of a desired look and can repair the most intricate of pieces.
No. of Employees: 14
Description of services provided/merchandise sold
Statesville Jewelry & Loan carries a large selection of new and vintage jewelry, new and pre-owned firearms, musical equipment, electronics, tools, sporting equipment and collectibles in a clean, comfortable setting. Statesville Jewelry and Loan offers secure, low-interest loans and accepts all major credit cards. Inventory changes daily, so please email, call or stop in with requests. The store, via its website, sells items worldwide, including in places such Singapore, Hong Kong in Australia.
The store acquires new and antique pieces, and customers are encouraged to come in for an appraisal. Statesville Jewelry and Loan closely reviews and inspects all jewelry, often refurbishing, re-polishing and resetting stones. The company's dedication to flexibility allows store professionals to repurpose and reuse many items, making Statesville Jewelry and Loan the ultimate recycler.
Company History
PP and Alma Marshall established Statesville Jewelry & Loan, Co. in February 1956. The family business has expanded over the years, adding Statesville Jewelry & Loan on Davie Avenue and Troutman Jewelry & Loan on Main Street in Troutman.
Mission Statement/Business Philosophy
Statesville Jewelry & Loan, Co. prides itself on its close connections to the Statesville community and its strong reputation, whether as a business or as a neighbor. Store professionals are committed to offering and providing the best service possible, accompanied by fair and honest prices. Statesville Jewelry & Loan, Co. is in business to buy, sell and trade, and it offers a warranty on all products.