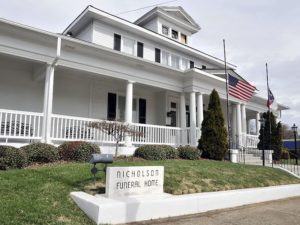 Contact Information
135 E Front St., Statesville, NC 28677
704-872-5287
nicholsonfunerals.com
Management information
Bill Brater, president
Number of Employees: 16
Description of services provided/merchandise sold
Locally owned and operated, the experienced funeral directors at Nicholson Funeral Home guide clients with compassion, dignity and respect. From casket choices to funeral flowers, the funeral directors provide service designed to meet the needs of each family.
Nicholson Funeral Home offers obituaries. The staff directly orders flowers and offers grief support and pre-planning services.
Days/Hours of Operation
Our team can be reached 24 hours a day, seven days a week, 365 days a year.
Company History
In 1983, the Troutman/Strandburg family became just the third family in 131 years to own Nicholson Funeral Home, a Statesville landmark. Now housed in a stately 1901 colonial revival home on East Front Street, the company history dates to 1850, when the William Thomas Nicholson family settled on Hunting Creek north of Harmony. W.T. Nicholson moved the funeral home into its current location in 1920, and he remained its owner until his death in 1951.
Mission Statement/Business Philosophy
Nicholson Funeral Home's honest service and commitment to excellence have served customers well, and people can rest assured the professional, caring staff will assist them in their time of need.