Special to Ired Free News
Do you know someone who has had breast cancer? Like many of us, your answer is most likely yes. You may even know multiple people who have had it.
According to the American Cancer Society (ACS), one in eight women will develop breast cancer during her life. Fortunately, early detection methods are easily accessible and can be lifesaving.
Being Breast Cancer Awareness Month, October is the perfect time to call your provider and schedule your next mammogram.
Iredell Imaging at Mooresville, which recently earned gold seal accreditation in mammography from the American College of Radiology, offers state-of-the-art mammogram technology.
"This accreditation ensures that Iredell Imaging is committed to providing the highest level of imaging quality and patient care," said Meredith Ballard, mammography supervisor for Iredell Health System.
Iredell's Women's Health Center in Statesville has been accredited by the American College of Radiology for many years.
Understanding Breast Cancer
Before getting a mammogram, it's important to understand breast cancer and how it develops.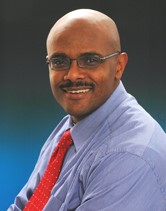 "Breast cancer occurs when abnormal cells in the breast grow and divide rapidly," said Thomas Gaston, a radiologist with Iredell Radiology Associates who reads and interprets Iredell Health
System diagnostic images.
Without treatment, these abnormal cancer cells continue to multiply, invading and destroying healthy breast tissue and eventually forming a tumor. These cells can also break away from the tumor and travel to other areas of the body, spreading the cancer.
Risk Factors of Breast Cancer
"Anyone can develop breast cancer, but factors like age and genetic mutations can increase your risk," said Gaston.
Typically, women 55 or older and those with mutated forms of some genes have a higher chance of developing breast cancer.
Other risk factors for developing breast cancer include a family history, past radiation therapy to the chest, and a previous history of breast cancer. Race is also a contributing factor to breast cancer, as white women are more likely to develop it than women of other races.
Lifestyle-related conditions such as obesity, a sedentary lifestyle, and alcohol consumption can also increase your risk. Even as little as one alcoholic drink a day can raise your breast cancer risk.
Though some risk factors for breast cancer are out of your control, routine screening can help catch breast cancer early.
"Early detection is key and is crucial to breast cancer survival," said Gaston.
Understanding Mammograms
Mammograms are specialized X-rays that can reveal breast tumors before they can be felt or even seen. According to Gaston, the entire process of getting a mammogram usually takes between 10 and 20 minutes.
Iredell Imaging at Mooresville has a brand-new 3D mammography unit, allowing for clearer, more precise views of the breast tissue. This system delivers the same low amount of radiation as a standard 2D mammography unit while offering superior accuracy in breast cancer detection.
Iredell Imaging's 3D mammography technology takes numerous images as the machine moves over the breast. A computer then compiles the images together to create a 3D picture. The Statesville location also offers 3D mammography.
In order to catch breast cancer early, it's important to start scheduling your mammogram at the recommended age. If your breast cancer is found in the beginning stages, you will have the greatest range of treatment options and the greatest likelihood of successful treatment.
Mammogram Recommendations
"To aid in early detection of breast cancer, it is best to begin annual screening at age 40," said Gaston.
If you are at high risk for breast cancer, you may even want to begin receiving mammograms sooner. Your primary care provider can help you determine your risk level and let you know the appropriate time to begin screening based on your individual lifestyle.
If you would like to receive your next mammogram at Iredell Imaging at Mooresville, make sure to speak with your primary care provider. Before receiving your mammogram, you will be asked not to wear any deodorant or powders as this can show up on your x-ray images. Your provider can send a referral for your mammogram, or you can self-refer. Anyone who self-refers must have a healthcare provider who can receive the results.
LEARN MORE
Iredell Imaging at Mooresville is located on the first floor of Iredell Mooresville in Suite C. To learn more, please call the imaging center at 704-360-6460. The Women's Health Center in Statesville can be reached at 704-878-4551.
About Iredell Health System
Iredell Health System includes Iredell Memorial Hospital; Iredell Mooresville; Iredell Home Health; Iredell Wound Care & Hyperbaric Center; Community and Corporate Wellness; Occupational Medicine; the Iredell Physician Network and more. Iredell Memorial Hospital is the largest and only nonprofit hospital in Iredell County. The comprehensive healthcare facility has 247 beds; more than 1,700 employees; and has 260 physicians representing various specialties. Centers of excellence include Women's and Children's; Cardiovascular; Cancer; Surgical Services and Wellness & Prevention. The Health System's newest campus, Iredell Mooresville, is home to the area's only 24-hour urgent care facility, as well as an ambulatory surgery center, imaging center, rehabilitation services, and physician practices. The mission of Iredell Health System is to inspire wellbeing. For a comprehensive list of services and programs, visit www.iredellhealth.org.