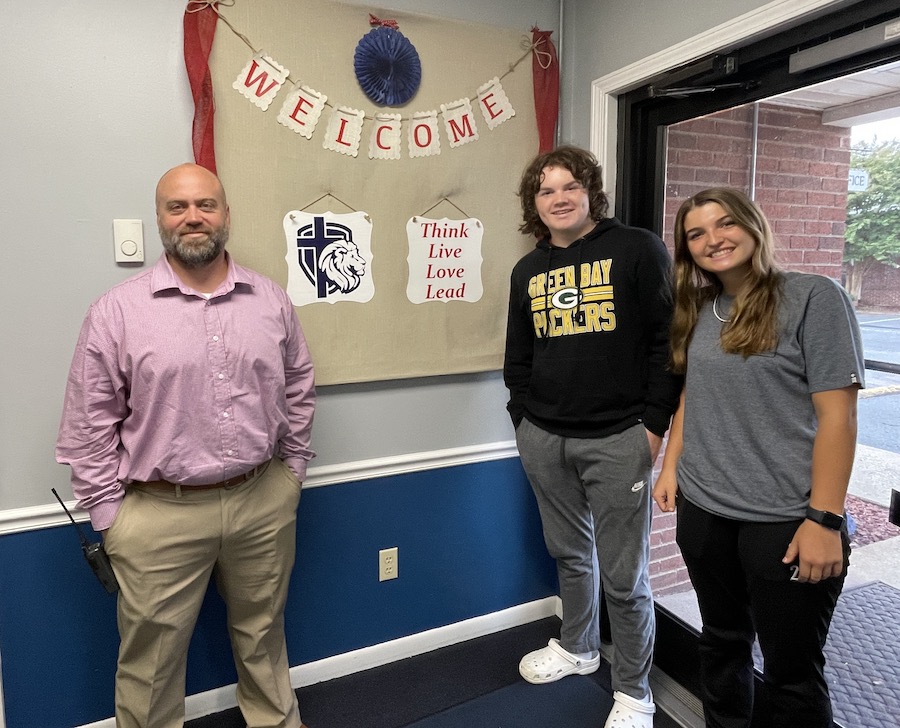 BY KARISSA MILLER
There has been an air of excitement at Statesville Christian School during the first few weeks of the news school year.
"We're off to a great start. One of our themes this year is growth," said Head of School Ben Hummel.
Enrollment grew by 53 students from last year to 339 students, with most of the increase occurring in elementary and middle school grades.
As the school continues to grow, kindergarten through fourth-grade classes have now been split to accommodate new growth, which is a good problem, according to Hummel.
"It's created a lot more teacher collaboration in our lower grades," he explained.
At the upper school campus, visitors will notice ongoing construction with crews working on the school's outdoor space.
"We've made good progress on our outdoor project. We are in the middle of it, but it's starting to come together. It's creating a really nice space for our community," Hummel said.
Students now have a new deck area for lunch, with new picnic tables and shade tarps. It's made a lot more outdoor seating, Hummel said. The space can also be utilized for an outdoor classroom.
The dirt has been replaced with cement and the areas around the space will be covered with artificial turf to keep the space low maintenance.
Other amenities in Phase I include a propane fire pit area, golf area and some renovations to the school's art barn.
New School Resource Officer joins staff
Hummel said the SCS community is grateful for their new partnership with new School Resource Officer Carina Moody.
Moody said her mission is to protect the students and faculty at Statesville Christian. She is the school's first SRO.
Moody is a certified Statesville Police Department officer. She has worked in law enforcement for 10 years and spent seven years serving as a school resource officer at other schools in Iredell County.
"This school has been a huge blessing for me and my family," Moody said. "There is a reason why I'm here. It's for personal growth I would say. In areas I struggle in — this school and environment helps. It's a place where I can learn about God and focus better as a person."
Students, meanwhile, are already busy with academics at hand.
Senior Matthew Swierczynska said he was eager to begin taking math again.
"Math has always been my favorite subject. Taking Mrs. Taylor's class has solidified that. It's given me a huge desire to do it in the future as a career. She's always been a good lecturer and attention grabber while being kind and soft while doing it," Swierczynska said.
Like many students who attend Statesville Christian, Swierczynska is involved in extracurricular activities, including Boys Scouts, and he was part of the Quiz Bowl championship team last year.
Senior Kaycee Taylor has attended Statesville Christian since she was in elementary school.
While her mom is her favorite teacher, she said that teacher Jeffrey Durham also inspires her.
"He comes up with some many different Biblical examples that we can live out in the real world. As seniors, we are taking a Bible class that gives us different worldviews. When we enter college, we know how to identify them. He gave us a firm foundation so that we can witness to other people in our faith," she said.
Taylor said that because her faith is part of the culture of SCS, it creates different interactions with her peers and teachers. The school also provided her with a positive outlet for sports.
Taylor will graduate early so that she can enroll at East Carolina University, where she will play goalie for the soccer team.
Hummel said that the school offers many outlets for students to learn and grow, pointing out that many students also participate in community service projects and serve others in some capacity.
Photos