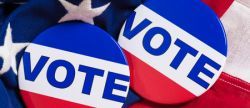 Special to Iredell Free News
RALEIGH — National Voter Registration Day – when election officials across the United States remind eligible individuals of the importance of registering to vote and voting – is Tuesday, September 19.
According to 2020 U.S. Census data, as many as 1 in 4 eligible Americans are not registered to vote.
The State Board of Elections joins with the 100 county boards of elections across North Carolina to encourage eligible individuals to be #VoteReady in 2023 and beyond.
Here are five quick and easy ways to be #VoteReady in North Carolina:
♦ If you're eligible, register to vote. See How to Register for information on registering online (for NCDMV customers) or by completing and returning a North Carolina Voter Registration Application (fillable PDF).
♦ If you're already registered, make sure your registration is accurate and up to date through the State Board's Voter Search tool.
♦ If necessary, update your registration with your county board of elections. For more information, see Updating Registration.
♦ Know what elections are coming up for you. Upcoming Election and the State Board's Local Voter Tool are the best places to find that information.
♦ Learn more about the elections process in North Carolina, including safeguards in place to ensure accurate elections, at Election Security.