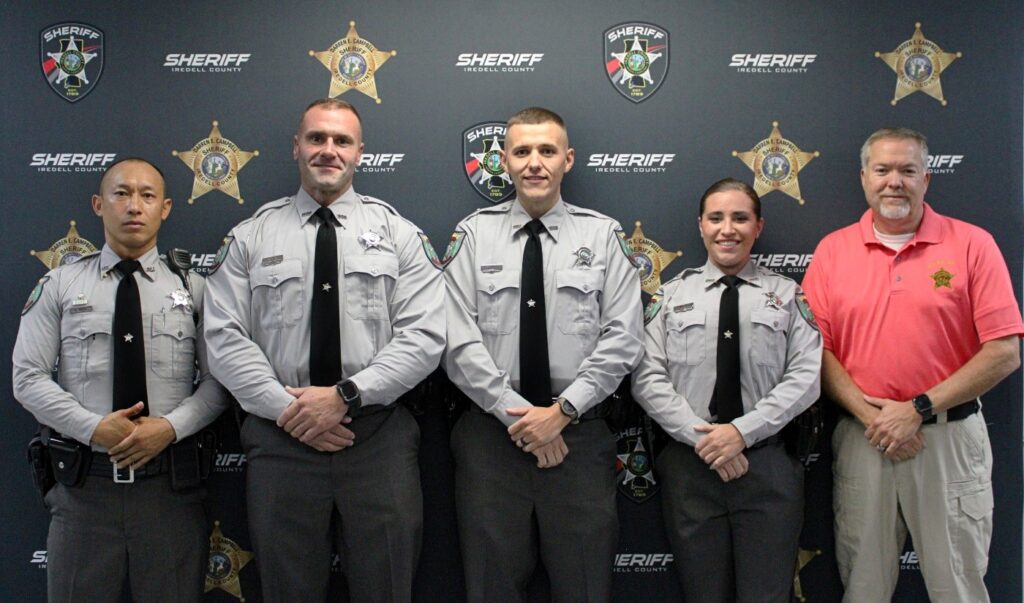 Special to Iredell Free News
Iredell County Sheriff Darren Campbell recently announced the hiring of four new deputies.
Deputies Lail, Greene and Sharpe applied and were selected for the ICSO Deputy Candidate Program. This program enables the Sheriff's Office to hire the top candidates from each applicant group and pay them as they attend Basic Law Enforcement Training (BLET). Deputy Moua completed Basic Law Enforcement Training independently.
Deputy Jacob Greene
Greene graduated from Wilkes Community College in 2018 with an associate degree in Heavy Equipment. He worked for his family business, Greene Site Development, and the North Carolina Department of Transportation for five years before making a career change and starting in law enforcement. Greene will be joining the ICSO Patrol Enforcement Unit.
Deputy Chad Lail
Lail spent the last several years in the sports entertainment industry and has appeared in three movies. He served in the U.S. Marine Corps for five years. Lail is also very involved in youth church ministry. He will be joining the ICSO Patrol Enforcement Unit.
Deputy Alex Sharpe
Sharpe graduated from Statesville High School in 2018. She earned a bachelor's degree in Forensic Science and Criminal Justice with a minor in Chemistry from Western Carolina University in May 2023. Sharpe will be joining the ICSO Patrol Enforcement Unit.
Deputy Dickinsin Moua
Moua graduated from Sacramento City College with an associate degree in Sociology and then continued his education at California State University in Sacramento, where he earned his bachelor's degree in Criminal Justice. Moua served in the U.S. Army as a Military Police for six years and worked as a Probation Officer for six years and a City Police Officer for one year before moving from California to North Carolina. Moua most recently worked at the Mecklenburg County Detention Center for two years. He will work as a bailiff in the Iredell County Courthouse.