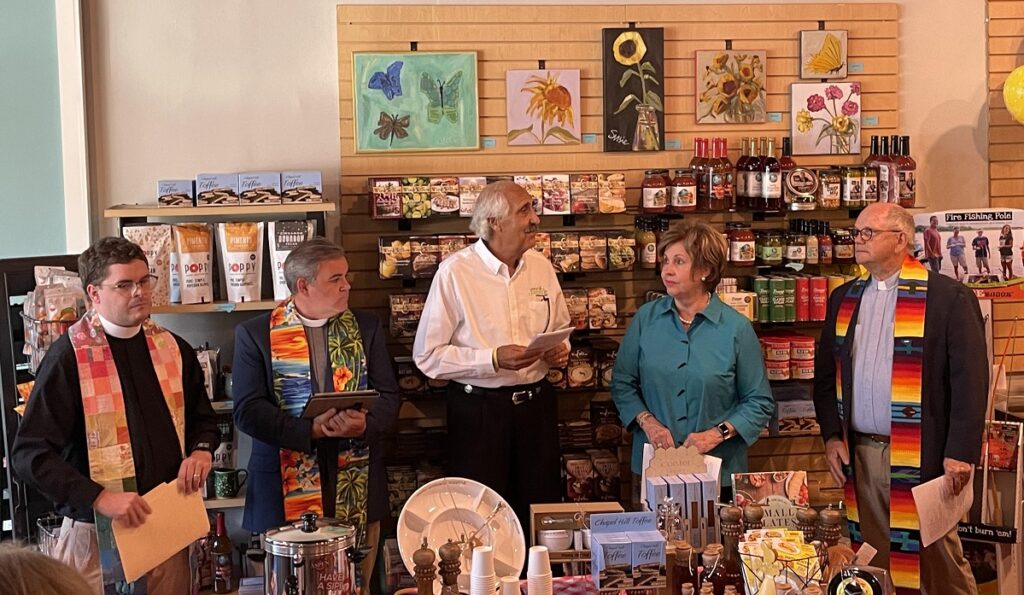 BY BRANDY TEMPLETON
Less than five months after a fire destroyed Gloria Hager's shop in Statesville, a small crowd gathered for a special service of blessing and dedication of the new location of GGs Art Frames Gifts.
GGs, established in 1969, reopened on Friday just in time for the Fall Art Crawl, a signature event in the downtown district.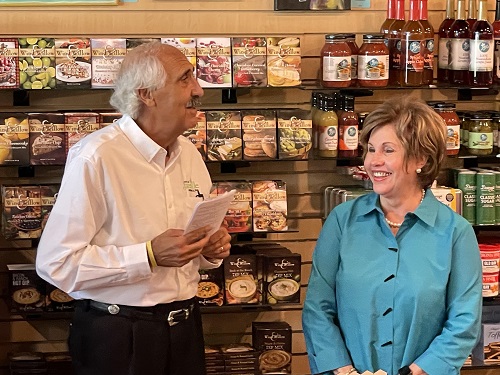 The process of rebuilding her business in the new location at 125 W. Broad Street has been stressful, Hager said.
"When we started to come together, I had a vision and it took a while," said explained. "It's been hard."
Hager appreciates her team and how had they have worked to organize and stock the store.
"The girls have worked themselves to death," she said.
Mayor Costi Kutteh, who participated in the ceremony, called it a wonderful occasion and said he couldn't "think of more deserving person than Gloria."
"It's a beautiful time to share the Statesville spirit," he said. "It's unique, it's real, and it's us."
During the ceremony, Kutteh spoke about the trials of the prophet Elijah in the Bible, saying he was on a journey to subdue the prophets of Baal while contending with Jezebel.
"He was alone, isolated, and perhaps depressed," Kutteh said. "He wanted to go to sleep and die. But God had a bigger plan."
The mayor saw parallels to Hager's journey following the April 25 fire that destroyed her shop at 101 W. Broad Street, along with the adjacent offices of Theatre Statesville and Merrill Lynch.
"It's in the silence of our lives listening to the word of God that we hear the plan," Kutteh said.
Pastor Ernie Sheldon quoted scripture from Psalm 30 and Mathew 30, saying that weeping may be for a night, but "joy comes in the morning."
Reverend Jeremy Cannada spoke about the comfort GGs offers the community, saying that the fire didn't put an end "to her legacy, her store, or to the daughter of God."
He emphasized why the dedication was so important.
"Dedication is never about the place. It's always about the people," he said. "People gather here and GGs marks the special moments of life: birth, weddings, anniversaries, death."
Reverend Robert W. Lee said that the ceremony signifies the rebirth and renewal from the fire, saying Hager's store offers joy, peace, and happiness.
"Fire is powerful. It destroys, but we know who writes the story," he said, reiterating God has his hand in everything.
"Coming together (here) makes Statesville a holy place," he said. "It's these moments that connect us … The story is not yet done."
Hager and her team were visibly moved by the service and the support of their friends, customers and other downtown merchants.
"Statesville is my family," Hager said. "I love Statesville."
Hager said she was overwhelmed by and thankful for the community support and turnout of well-wishers.
"It was beautiful," she said. "It warms my heart and makes me love this town even more .. if possible."
Photos