BY DEBBIE PAGE
The Troutman Town Council members voted unanimously on Thursday to deny a requested text amendment to allow an expansion of the areas where murals are allowed in the town.
Currently, murals are only allowed in the neighborhood center and central business zoning areas and conditionally in mixed-use districts.
This text amendment was requested by Mad Monkey Garage owner James Amico. The large mural painted on the building that he leases is not allowed in heavy industrial zoning. Because the mural is non-compliant, Amico sought the change to keep the artwork.
Kayla Watts, owner of Tails of Lake Norman, initially joined the application but dropped her request earlier this week.
The request to amend Articles 6.2.1 and 6.2.2 of the Troutman UDO would have allowed wall murals as a permitted sign type in all heavy industrial and highway business districts, not just at these two businesses.
Though the Planning and Zoning Board recommended the change in August — with the caveat that the Design Review Board have mural design and content approval, council learned Monday at its agenda briefing that federal law prohibits towns from interference with a mural's artistic content or words.
Only the mural's zoning area, dimensions, and colors can be regulated. Under Troutman's ordinances, the mural also has to be art with generic items but not direct advertising for a business itself.
Town Manager Ron Wyatt told council members that the town's code enforcement officer informed Amico and the artist that the mural was not allowed in the building's zoning while it was in process, but Amico and the artist chose to complete the project anyway.
Two of the building's six owners also objected after seeing it and stated that they were not asked before the mural was painted by the tenant.
Council members expressed concern about allowing approximately 40 percent more of the town's commercial and industrial property to add murals with no control on their content.
Currently, for murals in allowed areas, building owners only have to get a permit. There is no staff or council approval of content as long it meets size requirements and is not business advertising, but that process could be changed if the council chooses in the future to adopt a public art policy.
The code enforcement officer will contact the building's owners about the council's denial and deal with the violation.
TRENT HONORED AS EMPLOYEE OF MONTH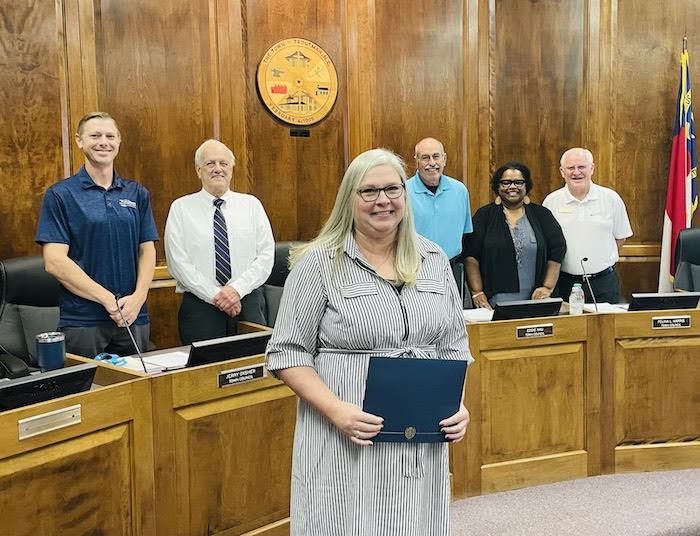 Administrative Supervisor Tania Trent was honored as the Town of Troutman Employee of the Month for her leadership in the town's administration office. Co-workers described her as kind, understanding, patient, and a pleasure to work with.
Finance Director Justin Mundy praised Trent for digitizing documents and invoices to modernize procedures and ease document retrieval. Mundy said she wears many hats and juggles many responsibilities in the town's finance department, passport office, billing, and customer service areas.
PARKS AND RECREATION REPORT
Contact Parks and Recreation Director Emily Watson at ewatson@troutmannc.gov or 704-528-7600, Ext 3, for more information on any of these events:
Halloween Costume Swap
Watson announced a Halloween Costume Swap event now through October 12. Folks are asked to donate any size unwanted or outgrown costumes or costume pieces to Town Hall to share with other community members.
On October 13, folks are invited to Town Hall for the free Halloween Shop to get costumes for their family. No donation is necessary to shop.
Iredell Walk for Recovery
The Iredell Walk for Recovery is at ESC Park on Saturday, September 30, from 4 to 7 p.m. This free, family-friendly event, featuring a concert by LeeD Not Follow, will celebrate the hope and healing that comes with recovery from substance use and mental illness with words from three inspiring speakers as well as community leaders.
Drug-Alcohol Coalition of Iredell Director Shane Nixon will be serving as emcee. Kids activities, including magician Mr. Marvel, a splash pad and playground, petting zoo, face painting, martial arts and dance performances, photo booth, art exhibit, and games and crafts, will also add to the fun.
A free dinner of hotdogs, and side items, prepared by the Waffle Chick Food Truck, will also be served. Water is provided by Niagara.
Many vendors associated with mental health, substance misuse, recovery, and other helping agencies will be on hand, and a "walk" around the event area visiting the vendors with their stamp card will make attendees eligible for prize drawings! (Must be present to win.)
Attendees should bring bag chairs, lawn blankets, sunscreen, and kids' swimsuits, and towels for an afternoon of fun and inspiration.
Wicked Fast 5K
The Annual Wicked Fast 5K, a festive, family-friendly 5K, is on October 14 along the Richardson Greenway. The 5K race begins at the Troutman Depot (137 South Main Street) at 6 p.m. with the one-mile fun run starting at 5:40.
Participants can dress up in their Halloween costumes and enjoy a run along the greenway while getting in the fun spirit of Halloween.
The 5K race registration cost is $20 and the Fun Run is $15. Race day registration starts at 5 p.m., but runners must be registered by October 2 to be guaranteed a T-shirt. Packet pick-up is on Friday, October 13, at Troutman Town Hall from 12 to 7 p.m.
Sign ups are online at https://runsignup.com/Race/NC/Troutman/VIRTUALWickedFast5K.
This flat course will begin at the Troutman Depot and run the length of Eastway Drive and the Richardson Greenway to Grannis Lane, turn around, and come straight back for the 5K distance.
All participants will be provided with a glow bracelet for visibility. A water station will be provided at the halfway marker. Restrooms will be provided at the start/finish line. The Mile Fun Run will be on Eastway Drive.
Awards will be given to the overall top three male and female runners and the top three male and females in each age group (5-year increments starting at age 10).
The race runs rain or shine. Registration fees are non-refundable.
Trails and Treats Sponsors Needed
Businesses and organizations are needed to make the annual Trails and Treats event a success. The annual Trails and Treats celebration is a safe, family-friendly environment for trick or treating on Tuesday, October 31, from 4 to 6 pm on the paved trail near the entrance of Troutman ESC Park.
The event is being sponsored by Checkered Flag Land & Homes and powered by Coldwell Banker Realty & Guaranteed Rate Affinity.
Vendors are asked to bring candy or treats (stickers, pens, balls, toys, novelties) for 1,500 to 2,000 children. Sales are not allowed at this free event.
Persons staffing the booths can get in the spirit by wearing costumes, setting up a spooky display, or performing a trick or skit. Allow ample time for set up, which can begin after 1 p.m. Tables and chairs are not provided.
To register as a trick-or-treat vendor, email ewatson@troutmannc.gov or enter the business or organization's information at https://www.ticketsignup.io/TicketEvent/TrailsTreats2023.
Safe Kids Iredell County Car Seat Inspection
Safe Kids Iredell County is having a drive-thru car seat inspection at Town Hall on Tuesday, November 7, from 4 to 7 p.m. Nationally Certified Child Passenger Safety Technicians will be available to check that children's car seats are properly installed so they are riding safely.
Motor vehicle crashes are the leading cause of death in children in the U.S, and result in injury to over 120,000 children each year. Proper use of car seats can decrease the risk of death and injury by as much as 70 percent when safety seats are used correctly.
An estimated 59 percent of car seats and 20 percent of booster seats are installed or used improperly.
For more information, contact Caroline Hager at caroline.hager@co.iredell.nc.us.
TROUTMAN POLICE DEPARTMENT REPORT
Police Chief Josh Watson reported 497 calls for service in August, a 35 percent increase over July. Some of the increase was attributed to increased traffic-related calls with schools going into session.
Police solved the break-ins of nine homes under construction. Two people were arrested in possession of the stolen items and were charged with 18 felonies.
The department also assisted other local, state, and federal law enforcement in apprehending a murder suspect from Georgia in the Flower House Loop and Rankin Hill Road area this week.
Watson said two officers attended General Instructor School, which certified three officers in the department to conduct in-service and training for officers. For special certifications, they will still attend training at community colleges or other facilities.
The two officers selected as K9 handlers recently selected the department's two future K9s, who are currently undergoing training. In October, the officers will join their K9 partners for a six-week training program before reporting for duty in Troutman.
OTHER ACTIONS
The council unanimously approved:
♦ Acquisition of the current Dollar General property located at 144 South Main Street for $1.5 million and the approval to transfer capital reserve funds to the general fund account for recent property acquisitions.
♦ Approval of a new ordinance prohibiting parking of vehicles In front yards on residentially zoned lots.
♦ An annexation request and a rezoning to highway business for Troutman Commercial Properties LLC for 7.5 acres at 709 South Main Street.
♦ A request by staff to pass a text amendment requiring a landscape berm on the perimeter of all new single-family residential subdivisions adjacent to a public street.
♦ Authorizing Town Attorney Gary Thomas to initiate eminent domain for a sewer pump station against Dependable Development Inc. at Sutter's Mill/Westmoreland Road, obtain an appraisal and make an offer based on the appraisal.
♦ Approval of closure of a portion of April Showers Lane for a Barium Seasons subdivision event on October 29 from 2 to 6 p.m.
♦ Approval of the facade review for Autumn Leaf Apartments located at the corner of Perth Road and Autumn Leaf Road and for the Tractor Supply planned at 726 S. Main Street.
♦ Approval to the Rotation Wrecker Policy to set maximum prices and avoid possible gouging while ensuring proper compensation.
♦ Setting an October 12 annexation hearing request by Jabula Properties for 3.5 acres at 269 Houston Road.
POSTPONED TO OCTOBER MEETING
♦ Council members amended the agenda to move several items to the October 12 meeting, including:
♦ MI Homes' request to annex and rezone nearly 50 acres adjacent to Autumn Leaf Road and the Quail Haven subdivision to mixed residential to build 77 single family homes.
♦ A request by C & H Investment Holdings that fines levied in the amount of $300 for grass mowing violations on three vacant lots located on Rumple Street be waived.
♦ Consideration of the development agreement between Wakefield, Barium Springs Home for Children, and the Town of Troutman.
♦ Appointment of an inside alternate member of the Planning and Zoning Board.
♦ The J. Hoyt Hayes Troutman Library Report due to the branch manager's inability to appear Thursday night.