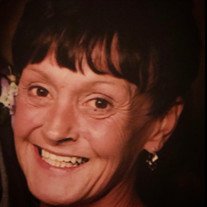 Vail Loraine McCreary Massey, 73, of Statesville, N.C., died Saturday, October 10, 2020, at the Gordon Hospice House.
Vail was born in Gowanda, N.Y., on October 8, 1947, to the late William Dorst McCreary and Mabel Loraine Kerr McCreary. She was also preceded in death by her husband, James A. "Bobcat" Massey.
She was an avid flower gardener, Barbie Doll collector, and enjoyed traveling with her husband. She had a wonderful sense of humor, loved going on family vacations, helping others, and she loved her dog, Zoey.
Those left to cherish her memory are three sons, Todd Sipos (Eva), Mark Sipos, and Kurt Sipos (Crissy), all of New York; five grandchildren, Travis Sipos (Lindsay), Shelby Sipos, Grace Sipos, Braden Sipos, and Emma Sipos; three great-grandchildren, Teagan Sipos, Amelia Sipos, and Cole Sipos; and two close friends, Kathy Fisher and Kathy Moore.
There will be no formal services.
Nicholson Funeral Home is serving the family.