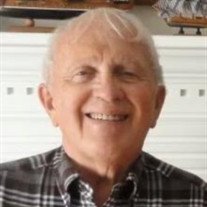 Gordon Thomas Schaeffer, 85, of Statesville, N.C., passed away February 19, 2021. He was born September 23, 1935 in Rochester, N.Y., the son of the late Paul T. Schaeffer and Esther Welsher Schaeffer. He is also preceded in death by his beloved wife, Dolores Stocking Schaeffer.
Gordon proudly served his country in the United States Army. He was employed by Furst McNess Company, a farm supply products company, in sales. He was a member of the Elks Lodge, and he enjoyed working on and collecting electric trains, woodworking, boating, and traveling with Christian Tours. Gordon also enjoyed going to breakfast with friends at the local Waffle House or Daylight Donuts.
Left to cherish his memory are his daughter, Kim Lovelady; grandchildren, Chris LaFleur (Dana), Angela Hodges (Paris) and Vanessa Lovelady (Thomas); great grandchildren, Konnor, Alyssa, Ava, Savannah and Sophia; and numerous friends and family.
A funeral service will be held at 2 p.m. on Wednesday, February 24, 2021, at Nicholson Funeral Home, 135 E. Front Street, Statesville, N.C. The family will receive friends one hour prior to the service at the funeral home. Interment will follow at Oakwood Cemetery in Statesville.
Please share memories and condolences with the family at www.nicholsonfunerals.com.
Nicholson Funeral Home is serving the family.