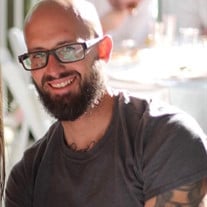 Ricardo Allen Mathias, 32, of Mooresville, N.C., passed away on Monday, September 6, 2021, while doing what he loved, riding his motorcycle.
He was born on July 31, 1989, in West Palm Beach, Fla. Ricardo married the love of his life, Lindsay Mathias on October 7, 2017. They first started dating in June of 2013. Ricardo and Lindsay welcomed their beautiful baby girl, Lilliana Reign Mathias, on August 18, 2021.
Ricardo was a veteran who proudly served in the United States Marine Corps. His passions were being in the mountains hiking, seeing waterfalls, riding his motorcycle and taking adventures with his wife. He was a loving husband, father, son, and friend.
He is survived by his wife, Lindsay Rodesiler Mathias; daughter, Lilliana Mathias; mother and stepfather, Michelle and Brian Jones; sisters, Allison Mathias and Cheyanne Paez; brother, Theo Paez; father, Ricardo Mathias; and grandparents, Allen and Mary Martin.
A Celebration of Life will be held on Saturday, September 11, from 2 to 4 p.m. at Cavin-Cook Funeral Home, 494 E. Plaza Drive, Mooresville, NC 28115.
In lieu of flowers, any donations would go towards helping his wife and newborn daughter with many upcoming expenses. Please make donations to his wife, Lindsay Mathias, or to the funeral home (P.O. Box 977, Mooresville, NC 28115).
Cavin-Cook Funeral Home & Crematory, Mooresville, is serving Ricardo's family. Condolences may be made to the family at www.cavin-cook.com.