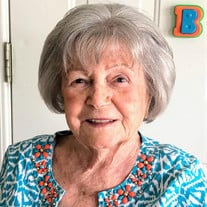 Sally Smith Davis, 93, of Mooresville, N.C., went to be with her Heavenly Father on Sunday, July 25, 2021, after struggling with health issues over the last several years. She passed away at home with her family by her side.
She was born on July 24, 1928, in Boston, Mass., to the late Anthony E. and Sarah M. Smith. She married the love of her life, Wilbur Jefferson "Jeff" Davis, on March 11, 1950. Together they built a family and were married for nearly 71 years.
Throughout her lifetime, Sally held many part-time jobs to supplement the family income and volunteered for countless organizations. She proudly stood by her husband's side as he served 30 years in the United States Coast Guard. Sally was a devoted member of Central United Methodist Church of Mooresville and was passionate about supporting the youth program there.
In addition to her husband, she was preceded in death by her parents, brother and sister. She is survived by her daughters, Susan Midgette, Sandy Lane (Frank), and Cheryl Seeley (Fred); 12 grandchildren, 27 great grandchildren, and nine great-great grandchildren; and many nieces, nephews and their families.
Her legacy is one of helping anyone who needed help. She loved openly and "Sassy" Sally and her great sense of humor will be deeply missed.
Until we meet again, Love and God Bless from your family.
The family will receive visitors on Wednesday, August 4, 2021, from 5 to 7 p.m. at Cavin-Cook Funeral Home, 494 East Plaza Drive, Mooresville. A memorial service will be held at 11 a.m. on Thursday, August 5, at Central United Methodist Church with Rev. Ross O'Neil officiating. For those who are unable to attend the service, you may go to the following link for the live stream https://www.youtube.com/channel/UC864hAs96dTRLVVL1la0Qlw/videos?view=2&flow=list
A graveside service will follow at 1 p.m. at Salisbury National Cemetery.
In lieu of flowers, memorials may be made to Central United Methodist Church, 214 N Academy Street, Mooresville, NC 28115 or a charitable organization of your choice.
Cavin-Cook Funeral Home & Crematory, Mooresville, is serving the Davis family. Condolences may be made to the family at www.cavin-cook.com.