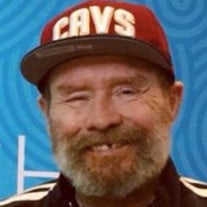 Norman "Norm" Delbert Kelly passed away peacefully at Acordius of Mooresville on January 11, 2022. He was born on March 30, 1957, in Springfield, Ohio, but his adventurous spirit didn't keep him there long. Norm lived across the U.S., including a stint in Florida where he met his wife and had a son. He moved on to California (working in tires and food service), which was followed by a brief stay in Texas. He finally landed in Mooresville, N.C., and identified it as his hometown.
Norm had a variety of interests, including riding his bike every chance he got, NASCAR and Chevys (although, he could occasionally be seen riding in a Mustang or two). He was an avid sports fan. His favorite teams were the Cleveland Browns, Ohio State, and the Dallas Cowboys football teams as well as the Charlotte Knights baseball team (with Homer as his favorite mascot). He loved to kid and joke when eating Chinese food with his friends. But, above all else, Norm had an all inclusive faith that could not be extinguished.
Norm accepted Christ and was baptized at a small mountain commune. As stated, Norm lived his faith "boldly!" He was an active participant in numerous mission trips, care and guest services teams, etc. But Norm's passions were his Saturday set up, Saturday life group, and C/R families at his beloved Cove Church. For Norm there was no job done in the name of Jesus that was to small. He did every one with enthusiasm and ownership in the task.
In April of 2016, Norm's life changed dramatically, as he was the victim of a hit and run driver that left him paralyzed from the neck down. Being an "overcomer," Norm faced this challenge head on with the same unrelenting faith and personal determination he did with all his challenges, using his favorite Bible passage — "I can do all things through Christ who strengthens me" (eph 4:13) — as his personal battle cry. He learned a "new" normal and found creative ways to serve, including handing out business cards to anyone he met, with the Lord's Prayer on one side and the 23rd Psalm on the other, and spoke of God's glory to all who would listen. He accepted the things he could not change and inspired those around him by shining his light of faith. Norman's earthy presence will be missed, but his spirit will impact the lives of those he touched for all eternity. Rest In Peace our "little buddy."
Norm is survived by his son and a church family to numerous to list.
In lieu of flowers donations, can be made to:Hospice & Palliative Care of Iredell County, 2347 Simonton Road, Statesville, NC 28625; or The Cove Church Mooresville Campus, 197 Langtree Road, Mooresville, NC 28117
Services will be held at The Cove Church Mooresville Campus on Saturday, January 22, 2022, at 11 a.m. followed immediately by a grave side ceremony at Glenwood Memorial Park, 273 Glenwood Drive, Mooresville NC, 28115.
Cavin-Cook Funeral Home, Mooresville, is serving the Brown family. Condolences may be made to the family at www.cavin-cook.com.