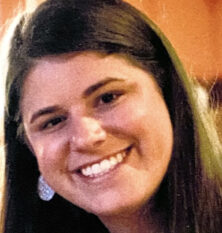 Joanna Lake Childers, 39, died on August 2, 2023, in Milwaukee, Wis. Her parents, Jim and Elaine Childers, and brother David Childers were by her side during her final days. Joanna was a joy and blessing to her family, friends, and coworkers. Even as a child her kind and compassionate nature stood out, along with her spirited sense of fun and adventure in whatever she was doing. And these qualities she kept throughout her life.
Joanna had the gift of being able to deeply connect with people from all walks of life regardless of their educational, religious, political, or financial backgrounds. She had an incredible smile and a contagious ability to laugh wholeheartedly. Joanna made others feel truly known by listening to their story. Always a friend and advocate to those less fortunate than herself, she frequently devoted substantial amounts of her own time and resources assisting others in finding stable employment, housing, and medical care. Once Joanna made a decision to help someone, she gave it her all. She never hesitated to pause her own pursuits in order to provide compassionate care to a grandparent during a terminal illness or for a friend going through a difficult time.
As a child, exploring the neighborhood was a daily adventure for Joanna and her friends. Throughout her life, she found adventure and meaning in connecting with other people, exploring the natural world, writing and painting, and teaching and learning. Joanna loved spending time with children helping to bring out their natural talents, and they knew they had a trusted friend in her. She especially enjoyed spending time with Isaac and Adina, who will always remember how their Baba could take an ordinary day and turn it into an extraordinary one worthy of celebration.
Joanna attended Statesville High School and graduated as the class salutatorian in 2002. She received a scholarship to attend Duke University, where she studied English Literature. At Duke, Joanna developed her love and talent for writing prose and poetry, and spent a summer working in a youth enrichment program with Harlem Children's Zone. She also presented her moving and personal work on Emily Dickinson at the American Literature Association conference in Boston and was the student speaker for the Department of English graduation.
After graduation, Joanna worked as a writer and editor in a variety of settings. She taught English to international students, had her own art exhibition in a Durham gallery, worked in an elementary school where she developed close bonds with students struggling in traditional school settings, and pursued her personal writing endeavors.
In recent years, she changed course and pursued a new career in over-the-road trucking. She enjoyed this time of her life as it gave her the opportunity to pursue her love of writing and painting. Joanna always took time to appreciate the beauty of the world around her, and she would frequently send her family beautiful pictures of her travels across the country. She was passionate about helping women recognize trucking as an opportunity to pursue independence and obtain a stable income, often volunteering to train newcomers to the profession. She was loved and respected by her fellow drivers, dispatchers, and those she trained.
Joanna had recently moved to a small town in Illinois where she purchased a small home that doubled as an art and writing studio. She found pleasure and beauty in writing poetry, cultivating a vegetable and herb garden, befriending her neighbors, and kayaking at Rend Lake.
Joanna was preceded in death by her grandparents: Paul and Eleanor Childers, and Pam and Arthur Lake, and several cousins on both sides of her family. Left to cherish her memory are her parents, Jim and Elaine Childers; brother David Childers and sister-in-law Julie and their children Isaac and Adina; aunts and uncles Scott Lake, Larry and Linda Lake, Paula and Tom Pastore; cousins Alex Lake, Justin Lake, Andrew Lake, Stacey Snyder, and Matthew Pastore. In addition to her family, she is missed by many friends. We love and miss Joanna so much and will always carry the memory of her beautiful spirit in our hearts.
A memorial service celebrating Joanna's life will be held later this fall. Her family also welcomes and appreciates any memories and stories of Joanna that others would like to share.
As Joanna took a special interest in Native culture and history, her family suggests that donations in Joanna's memory be made to the National Indigenous Women's Resource Center (https://www.niwrc.org/donate).