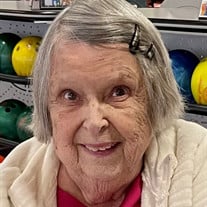 Ruth Christine Dennis Andresen, 82, of Statesville, N.C., passed away on Saturday, September 16, 2023, at Gordon Hospice House.
She was born January 18, 1940, to the late Ferris Robert Dennis and Esther Christine Heikkinen Dennis. In addition to her parents, she was preceded in death by a sister, Joan Dennis.
Ruth grew up in Michigan's upper peninsula in the small town of Atlantic Mine. She attended Jeffers High School. After graduation, she enrolled in the St. Joseph's School of Nursing, where she graduated as a Register Nurse. She worked in numerous hospitals as the charge nurse in medical/surgical departments. She was licensed to practice in Michigan, Ohio, North Carolina, and Ontario, Canada. At the end of her career, she was employed for many years as a case manager for the state of Ohio and the Aetna Insurance Company. After retirement, Ruth and her husband built a home in the Statesville, N.C., area which enabled her to live next door to her two grandchildren. She was able to see them go from birth to college graduation. Her hobbies included stained glass art and reading.
Ruth is survived by her loving husband of 62 years, Pem Andresen; children, Sara Stiltner (Gary) and Steven Andresen; brother, John Dennis (Candy); grandchildren, Grant and Garnett Stiltner; and several nieces and nephews.
The service celebrating Ruth's life will be private.
Cavin-Cook Funeral Home and Crematory, Mooresville, is serving the Andresen family. Condolences may be made to the family at www.cavin-cook.com.