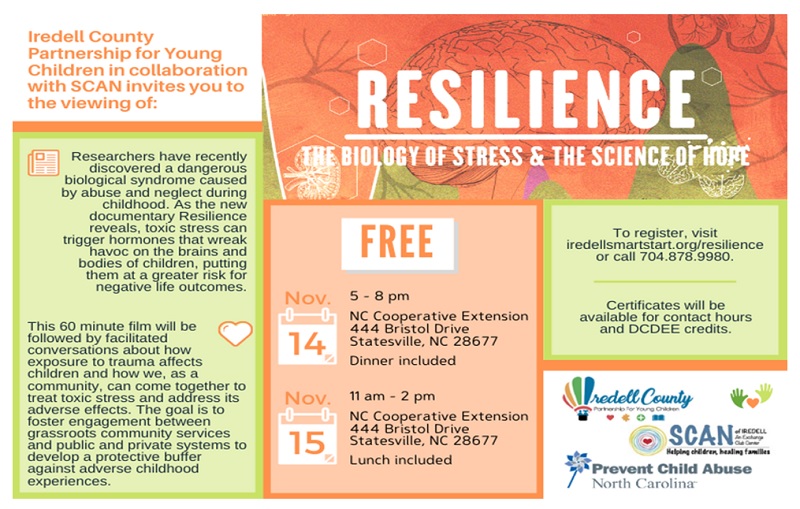 Special to Iredell Free News
The Iredell County Partnership for Young Children and SCAN of Iredell invites the community to the viewing of the documentary "RESILIENCE: The Biology of Stress and the Science of Hope."
Director James Redford's documentary explores the science behind Adverse Childhood Experiences (ACEs) and the havoc the syndrome can wreak on the brains and bodies of children. This film demonstrates how toxic stress increases children's overall risk of developing diseases, engaging in risky behavior, facing jail time, and experiencing early death.
Viewers will learn about the movement that has begun within various sectors to treat toxic stress as a public health crisis, which has led to greater efforts in addressing and combating its adverse effects.
"Resilience does not mean that children 'Get over it.' It does mean that the caring adults in their lives have a lot of power to buffer, rather than cement, the effects of toxic stress," explains Amanda J. Moreno, Ph.D., researcher from the Erikson Institute.
This 60-minute film will be followed by facilitated conversations with Prevent Child Abuse North Carolina about how exposure to trauma affects children and how we, as a community, can come together to treat toxic stress and address its adverse effects. The goal is to foster engagement between grassroots community services and public and private systems to develop a protective buffer against adverse childhood experiences.
Registration
All Iredell County community members are invited to attend and be a voice of collaborative support and systems change. To be a part of this opportunity, choose from either November 14 from 5 to 8 p.m. or November 15 from 11 a.m. to 2 p.m. at the NC Cooperative Extension, located at 444 Bristol Drive in Statesville.
Come enjoy a free meal and a unique learning experience by registering now at iredellsmartstart.org/resilience or calling 704-878-9980.
About Iredell County Partnership for Young Children
The Iredell County Partnership for Young Children (ICPYC) is a 501 (c)(3), nonprofit organization, dedicated to measurably increasing learning and healthy development of children birth to age five in Iredell County. ICPYC provides services focused on raising the quality of early care and education, supporting families, advancing child health, and expanding literacy. For more information, please call (704) 878-9980 or visit http://www.iredellsmartstart.org/. ICPYC is located at 734 Salisbury Road in Statesville.