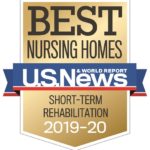 Special to Iredell Free News
U.S. News & World Report has again recognized Iredell Health System's Skilled Nursing Facility as one of the nation's top nursing homes in its newly released list of "Best Nursing Homes for Short-Term Rehabilitation."
The Short-Term Rehab evaluation accounted for patients who stayed at a nursing home 100 days or fewer. By modeling statistics, consulting with experts, and reviewing scientific publications, U.S. News determined 10 quality measures focused on staffing, outcomes, resident complaints, and processes of care.
Iredell Skilled Nursing outperformed state and national averages on all 10 quality measures.
The facility tripled the North Carolina average of registered nursing staff per resident, a measure that is proven to be closely associated with successful patient rehabilitation. Committed to helping patients go home on time able to avoid injury, the facility also tripled the state average of physical therapists per resident.
"We are continuously evaluating and assessing ways we can improve care to provide the best patient outcomes," said Jessica Hicks, Iredell Skilled Nursing Facility's director of nursing. "I believe that those standards and philosophy contribute greatly to our success. Today's healthcare world is constantly changing, and it is our responsibility to ensure we evolve to best serve our patients."
More than two-thirds of Iredell Skilled Nursing patients returned directly home. And while more than 11 percent of the state's skilled nursing patients needed to visit an emergency room during their stays, the total among Iredell Skilled Nursing patients was less than two percent. More than 90 percent of the facility's patients were given a timely flu vaccine.
Iredell Memorial Hospital was the first North Carolina hospital to receive a Certificate of Needfor transitional care. The Iredell Skilled Nursing Facility is located inside the hospital, and connects acute hospital care with community skilled nursing, which has produced outstanding results drawing national recognition.
Iredell Skilled Nursing patients are served by the hospital pharmacy and consult with physicians on site. Patients have immediate access to hospital services and benefit from respiratory therapy, physical therapy, wound care, and occupational therapy. Emergency services are also readily available on site.
"I am pleased and proud to see our skilled nursing facility recognized by U.S. News & WorldReport for the exemplary care we provide," said Iredell Health System CEO & President JohnGreen. "Iredell Skilled Nursing's success demonstrates our commitment to provide excellentcare at varying levels of service. We will continue to meet the community's needs in ourhospital, local clinics, nursing facility, and in patients' homes."
The needs and length of care among skilled nursing patients vary widely. And for the 1.3 million Americans who are in a skilled nursing facility, the quality of care they receive varies even more. Utilizing the U.S. News Best Nursing Home ratings through the online tool Nursing HomeFinder helps individuals and families determine the best skilled nursing care for them or their loved one.
U.S. News emphasizes using the ratings as a starting point for those choosing a skilled nursingfacility. People can access Nursing Home Finder by visiting health.usnews.com/best-nursinghomes.
"These ratings help individuals and their families begin their search for senior care and should beused in consultation with a medical professional and in-depth onsite visits," said Kim Castro, editor and chief content officer of U.S. News.
Iredell's Skilled Nursing gives tours of its facility to people who may need skilled nursing, along with their families. To schedule a tour or learn more, call 704-873-5661.
"I'm so proud of our skilled nursing team," Hicks said. "We don't provide care to receive awards and accolades, but it is an honor to be recognized at this level. We are fortunate to be part ofIredell Health System. Earning this recognition wouldn't be possible without the Health System's tremendous support."
About Iredell Health System
Iredell Health System includes Iredell Memorial Hospital, Iredell Home Health, Iredell Wound Care &Hyperbaric Center, Community and Corporate Wellness, Occupational Medicine, and the IredellPhysician Network. Iredell Memorial Hospital is the largest and only non-profit hospital in IredellCounty. The comprehensive healthcare facility has 247 beds, more than 1,600 employees, and has 260 physicians representing various specialties. Centers of excellence include Women's and Children's, Cardiovascular, Cancer, Surgical Services and Wellness & Prevention. Iredell Memorial has also been named as a Blue Distinction Center+ for Hips and Knees, as well as Maternity Care, by Blue Cross Blue Shield. The mission of Iredell Health System is to inspire wellbeing. For a comprehensive list of services and programs, visit www.iredellhealth.org.