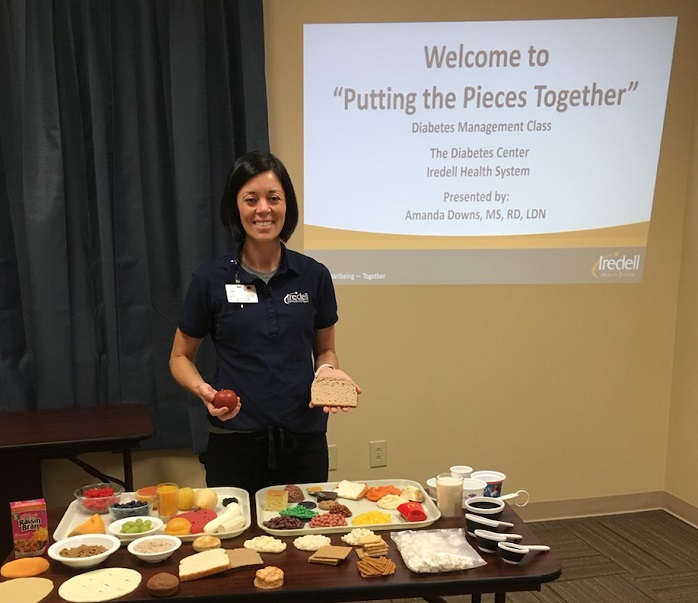 Special to Iredell Free News
The 30 million Americans living with diabetes are disproportionately impacted by COVID-19, with those poorly managing their diabetes at a greater risk of experiencing complications from the coronavirus.
Almost everyone knows someone impacted by diabetes, the seventh leading cause of death in Iredell County. Diabetes is a serious condition leading to many complications. Type 1 diabetes occurs when the body does not produce insulin, a hormone that helps digest glucose. Individuals with Type 2 diabetes do not properly use their natural insulin, known as insulin resistance.
At its Troutman location, Iredell Health System's Wellness and Diabetes Center helps patients living with diabetes achieve a higher quality of life by helping them focus on their health, improve their diet, grow their knowledge, strengthen their self-assurance, and enhance their overall wellness.
"We help empower patients and give them education and resources to set them up for confidence and success," said Amanda Downs, a registered dietitian and diabetes educator at the Iredell Wellness and Diabetes Center.
Diabetes greatly increases the risk of heart disease and can cause stroke, hormone dysfunction, loss of hands or feet, and kidney failure. But people with diabetes can live long and healthy lives when their diabetes is well-managed. Many cases of diabetes and its complications can be prevented by a nutritious diet, regular physical activity, maintaining a healthy body weight, and avoiding tobacco use.
The diabetes center can help patients understand all topics related to diabetes, ranging from setting up and using their blood sugar meter, counting their carbohydrates, and understanding how their diabetes medication is working in their body. The center helps patients along their journey as they focus on their health, nutrition, doctor's appointments, and overall health. A patient's team includes their primary healthcare provider, a registered nurse, and a registered dietitian.
The American Diabetes Association's theme for American Diabetes Month this November is "We Stand Greater Than Diabetes," aligning with a fundamental principle the Iredell Wellness and Diabetes Center consistently conveys to its patients: You are in control, not the disease of diabetes.
Receiving referrals from providers throughout Iredell and surrounding counties, the center functions uniquely as an education center, discussing the disease with patients and equipping them with practical education that simplifies diabetes management which can otherwise become confusing and overwhelming.
The Iredell Wellness and Diabetes Center also educates the community on the disease and helps others access resources to maintain overall wellness. Team members often participate in community outreach opportunities, including presentations where they educate attendees on prediabetes, diabetes, target numbers for blood sugar management, healthy nutrition, exercise, and weight management. They also provide educational materials to a large array of community organizations, including FeedNC, Mooresville Christian Mission, and HealthReach Community clinic.
American Diabetes Month is a time to take collective community action against a disease threatening people of all ages. The prevalence of diabetes is increasing with an aging population, and most of the Iredell Wellness and Diabetes Center's patients are adults. But diabetes is also one of the most common chronic conditions in school-age youth.
"We encourage parents to help their child develop a plan to manage diabetes and to work and communicate closely with their healthcare team to regularly adjust the plan of care as needed," Downs said.
LEARN MORE
If you are interested in diabetes education or a personalized meal plan, contact the Iredell Wellness and Diabetes Center at 704-878-4556.
About Iredell Health System
Iredell Health System includes Iredell Memorial Hospital; Iredell Home Health; Iredell Wound Care & Hyperbaric Center; Community and Corporate Wellness; Occupational Medicine; the Iredell Physician Network and more. Iredell Memorial Hospital is the largest and only nonprofit hospital in Iredell County. The comprehensive healthcare facility has 247 beds; more than 1,700 employees; and has 260 physicians representing various specialties. Centers of excellence include Women's and Children's; Cardiovascular; Cancer; Surgical Services and Wellness & Prevention. The mission of Iredell Health System is to inspire wellbeing. For a comprehensive list of services and programs, visit www.iredellhealth.org.