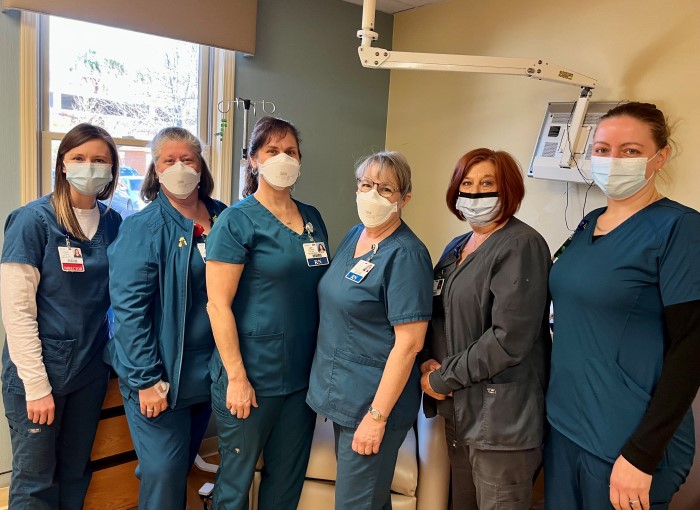 Special to Iredell Free News
When you are ill, oral antibiotics can be a great solution to get you feeling better as soon as possible. But what if you have a chronic disease or severe infection that does not respond to oral antibiotics? Or a condition that makes you physically unable to swallow medication?
That's when infusion therapy can be helpful.
When your doctor recommends infusion therapy, also known as IV therapy, it may sound confusing. However, it's simply a way of delivering medication that can't be taken orally. Instead of receiving oral medication, infusion therapy is used to administer the medication directly into your bloodstream through an intravenous catheter, or IV.
"An IV is a small plastic catheter that is inserted with a needle into a vein under your skin. The catheter allows nurses to insert medication directly into your circulatory system," said Brandy Collins, assistant director of Infusion Care Services at Iredell Health System.
At Iredell Infusion Care, services provided by certified, highly trained IV nurses include:
♦ Chemotherapy administration;
♦ Hydration therapy;
♦ Blood product administration;
♦ IV antibiotics; and
♦ Injections
Infusion therapy can treat several medical conditions, including dehydration, blood and tissue infections, anemia, cancer, and immunosuppressive disorders, among others.
Iredell's infusion care team sees around 150 patients a week, providing lifesaving and life-sustaining medications to adults 18 years of age and older. The nurses in the infusion center work very closely with the community's physicians to provide the safest and best care possible.
Since infusion therapy can take place over an extended period of time, nurses in the infusion center get to know their patients and their families well.
"Nurses know about their patients' children and grandchildren, their jobs and vacations, and truly become a part of their lives," said Collins.
"Long-term patients of the center love the nurses. Patients sometimes bring breakfast sandwiches, candy, and doughnuts to their appointments to show their appreciation. Many of them still stop in for a 'hello' months to years after their treatment is complete," she added.
What can you expect at Iredell Infusion Care?
If your physician recommends infusion therapy, Iredell Infusion Care can provide you with the care you need.
First, to prepare for your infusion therapy, make sure to hydrate before your appointment. Collins also encourages patients to write down any questions before their appointment so they do not forget to ask.
Once you enter Iredell's Outpatient Services building, a friendly receptionist will take your information and check you in. Shortly afterward, a nurse will greet you in the waiting room and bring you back to the treatment room.
In the treatment room, you can choose a comfy recliner to sit in, and a nurse will offer you a drink, snack, or warm blanket. The nurse will then check your vitals, explain the medication to you, and answer any questions you may have.
"You can always count on having a knowledgeable nurse taking care of you. Just sit back, relax, and enjoy that highly requested warm blanket," said Collins.
When you are ready, the nurse will start the IV and connect you to a pump that infuses the medications. Once completed, the IV is removed, and you are discharged with any additional information you may need.
LEARN MORE
Iredell Infusion Care is located in the Outpatient Services building at 739 Hartness Road, behind Iredell Memorial Hospital. If you would like to learn more or schedule your infusion therapy at Iredell Infusion Care, please call 704-878-7675.
About Iredell Health System
Iredell Health System includes Iredell Memorial Hospital; Iredell Mooresville; Iredell Home Health; Iredell Wound Care & Hyperbaric Center; Community and Corporate Wellness; Occupational Medicine; the Iredell Physician Network and more. Iredell Memorial Hospital is the largest and only nonprofit hospital in Iredell County. The comprehensive healthcare facility has 247 beds; more than 1,700 employees; and has 260 physicians representing various specialties. Centers of excellence include Women's and Children's; Cardiovascular; Cancer; Surgical Services and Wellness & Prevention. The Health System's newest campus, Iredell Mooresville, is home to the area's only 24-hour urgent care facility, as well as an ambulatory surgery center, imaging center, rehabilitation services, and physician practices. The mission of Iredell Health System is to inspire wellbeing. For a comprehensive list of services and programs, visit www.iredellhealth.org.