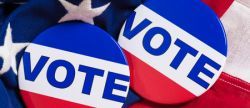 FROM STAFF REPORTS
A flurry of activity during the final week of candidate filing ensured that the vast majority of races in Iredell County will be contested in 2020.
Candidate filing ended at noon on Friday. Primaries, where necessary, are scheduled for March 3.
Democratic candidates waited until the final days to file for office in several races in the N.C. General Assembly and the U.S. House of Representatives.
No Democrats filed to run for three seats on the Iredell County Board of Commissioners. Incumbent Charles Gallyon is the lone Democrat running for a seat on the Iredell-Statesville Board of Education.
Here is a list of local races and candidates:
IREDELL COUNTY BOARD OF COMMISSIONERS
Three At-Large Seats
♦ Republicans: Gene Houpe, Raymond Burnette, Scottie Brown, Ryan Pegarsch, Melissa Neader, Steve Ellis
I-SS BOARD OF EDUCATION
District 2
♦ Republicans: William Howell, Robert Bennett
District 4
♦ Democrat: Charles Gallyon
♦ Republicans: Doug Knight, Tim Kendall, Tony Henderson
District 6
♦ Republicans: Kevin Angell, Charles Kelly
JUDICIAL DISTRICT 22A
District Court Judge (New Seat)
♦ Republicans: Adam Hilton, Bryan Corbett, Daryl Davidson Sr.
District Court Judge (Iredell County Seat)
♦ Republican: Christine Underwood
District Court Judge (Iredell County Seat)
♦ Republicans: Susan Ervin, Rob Young
Superior Court Judge
♦ Republicans: Julia Gullett, Will Long
N.C. GENERAL ASSEMBLY
N.C. House – 95th District
♦ Democrat: Amanda Brown Kotis
♦ Republican: Grey Mills
N.C. House – 84th District
♦ Democrat: Gayle Wesley Harris
♦ Republican: Jeffrey McNeely
N.C. Senate – 34th District
♦ Democrat: Barry Templeton
♦ Republican: Vickie Sawyer
CONGRESS
U.S. House – 10th District
♦ Democrat: David Parker
♦ Republicans: David Johnson, Patrick McHenry, Ralf Walters
U.S. House – 13th District
♦ Democrat: Scott Huffman
♦ Republican: Ted Budd