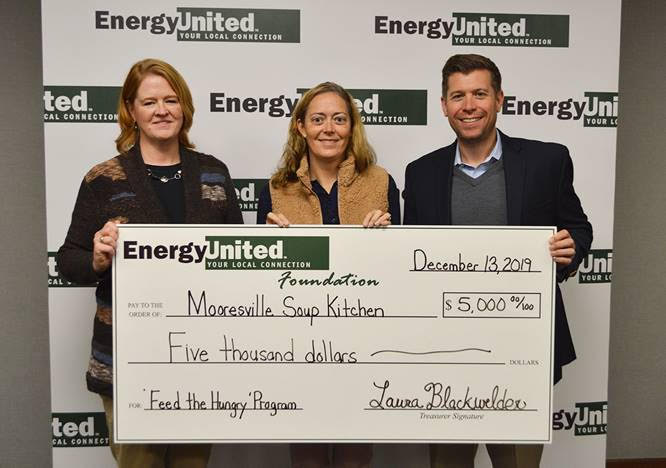 Special to Iredell Free News
The EnergyUnited Foundation presented a $5,000 check to the Mooresville Soup Kitchen on Friday, December 13, to provide support for its Feed the Hungry program.
The Mooresville Soup Kitchen has more than 450 regular volunteers and serves approximately 150 guests each day. The program provides individuals with healthy meals for breakfast and lunch every Monday through Friday.
In addition to providing meals at their main campus in Mooresville, the program also includes MSK Markets, which partners with volunteers at seven local sites to provide meals to another 1,000 members of the community, including veterans and the elderly.
"The EnergyUnited Foundation is proud to support the great services provided by the Mooresville Soup Kitchen," said Debra Citta, EnergyUnited Foundation administrator. "This program is important to so many people in need of meals and groceries, not just in Mooresville, but to those in surrounding counties as well."
The Mooresville Soup Kitchen also has a food pantry open each Wednesday so that eligible participants can shop for canned goods, dry goods, fruits, vegetables, and toiletries for their families. The program has expanded to include Food Movers, a service to deliver groceries and meals to families who are unable to visit Mooresville Soup Kitchen in person.
"We are so pleased to receive this donation from EnergyUnited," said Lara Ingram, Mooresville Soup Kitchen executive director. "Our mission every day is to provide meals to everyone in need, including veterans, the elderly, those on fixed incomes or just struggling to make ends meet. There are 9,000 people in our area who qualify for our assistance, but we can't help anyone without our amazing volunteers and without the kind donations of organizations like EnergyUnited."
To find out more about the Mooresville Soup Kitchen, visit their website at www.mooresvillesoupkitchen.com or connect with them on Facebook, Twitter or Instagram.
The EnergyUnited Foundation is a voluntary, member-funded non-profit organization supported by EnergyUnited's Operation Round-Up program. Over 70,000 EnergyUnited members choose to participate in the program by "rounding up" their electric bills each month. The maximum monthly contribution for an individual member with one account is 99 cents. Each of these small contributions are pooled together in a single fund managed by the EnergyUnited Foundation to support needy individuals, families, and non-profit organizations like Hospice & Palliative Care of Iredell County that complete an application explaining the reason and purpose for their requested grant.
About EnergyUnited
EnergyUnited Electric Membership Corporation (EMC) is the largest electric cooperative in North Carolina serving nearly 131,000 metering points. Headquartered in Statesville, EnergyUnited provides electric service in portions of nineteen counties in west central North Carolina which include Alexander, Cabarrus, Caldwell, Catawba, Davidson, Davie, Forsyth, Gaston, Guilford, Iredell, Lincoln, Mecklenburg, Montgomery, Randolph, Rockingham, Rowan, Stokes, Wilkes and Yadkin. EnergyUnited Propane provides products and services to more than 24,000 residential, commercial and industrial customers in 100 counties across Virginia, North Carolina and South Carolina. Visit EnergyUnited online at www.energyunited.com to learn more about our electric and propane businesses.