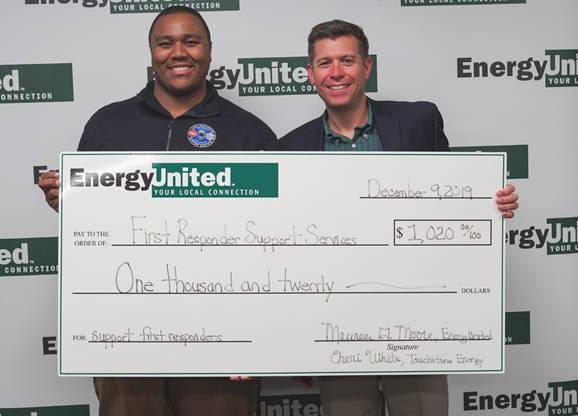 Pictured (from left) are Andrew Donawa, executive director of First Responders Support Services; and
Thomas Golden, chief strategy officer & vice president of Energy Services for EnergyUnited.
Special to Iredell Free News
EnergyUnited delivered a special donation for $1,020 to the First Responders Support Services (FRSS) of Statesville on Monday. The donation was made as the result of the electric co-op's partnership with the Touchstone Energy Hot Air Balloon Team, which visited Statesville in October to participate in the Carolina BalloonFest.
"The Touchstone Energy Hot Air Balloon Team proved to be a wonderful addition to the 2019 Carolina BalloonFest," said Maureen Moore, communications manager of EnergyUnited. "This donation demonstrates EnergyUnited and Touchstone Energy's shared commitment to co-op supporting communities."
The Touchstone Energy Hot Air Balloon serves as a goodwill ambassador for Touchstone Energy Cooperatives. Over the past 14 years, their balloons have attended numerous annual meetings, farm shows, balloon festivals, family days, rodeos, county fairs and other events. Most recently EnergyUnited hosted its annual employee event at the 2019 Carolina BalloonFest.
FRSS offers counseling, chaplaincy and financial crisis aid. First responders can struggle with the same challenges others go through — bills, divorce, a family death. Those challenges are compounded, however, by the added stress of 12-hour shifts that often put the lives of others in their hands. Emergency workers can also apply to have the Statesville-based nonprofit lend a hand when money is tight. If a responder experiences a personal crisis and is unable to pay their power bill, the organization will provide aid.
"FRSS was founded with a similarly cooperative spirit in mind," said Andrew Donawa, the nonprofit's executive director. "We believe that the people who selflessly support our communities each day also deserve support and the assurance of dedicated resources that can they can count on during a time of crisis."
You can learn more about First Responders Support Services by visiting its Facebook page.
About EnergyUnited
EnergyUnited Electric Membership Corporation (EMC) is the largest electric cooperative in North Carolina serving more than 130,000 metering points. Headquartered in Statesville, EnergyUnited provides electric service in portions of nineteen counties in west central North Carolina which include Alexander, Cabarrus, Caldwell, Catawba, Davidson, Davie, Forsyth, Gaston, Guilford, Iredell, Lincoln, Mecklenburg, Montgomery, Randolph, Rockingham, Rowan, Stokes, Wilkes and Yadkin. EnergyUnited Propane provides products and services to more than 24,000 residential, commercial and industrial customers in 100 counties across Virginia, North Carolina and South Carolina. Visit EnergyUnited online at www.energyunited.com to learn more about our electric and propane businesses.