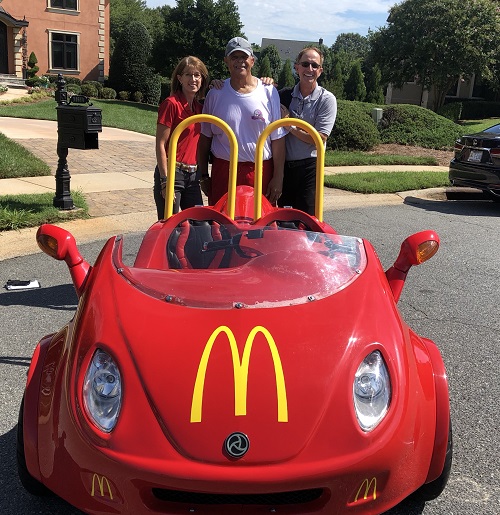 Pictured (from left) are Melissa Neader, John Hairston and Mike Neader.
Special to Iredell Free News
McDonald's franchise owners Mike and Melissa Neader will be showing off their new McCoupe for the first time in Tuesday's Mooresville Christmas Parade, which begins at 3 p.m.
The Neaders recently acquired the vehicle from friend and fellow franchise owner John Hairston, who won the McCoupe in a corporate raffle several years ago.
Hairston, a former industrial arts teacher and football coach at Independence High School, spent time in the mid-1980s with Mike Neader's dad, Jim, learning the ropes of operating a McDonald's restaurant before he acquired his first franchise.
Jim Neader owned five McDonald's locations at the time, including the Cherryville McDonald's, where Mike Neader was general manager at the time.
Mike and John became friends and shared the same aspirations of owning their own McDonald's franchises.
John and his wife Kathy opened their first McDonald's in Atlanta, Ga., but felt called to return to Charlotte. In 1989, they came back home. Today, they own 11 McDonald's locations throughout the Charlotte area and John is the recipient of the Ray Kroc Award and owner/operator Ronald Award for the Raleigh Region.
Meanwhile, Mike continued to grow with JENAN Inc., the company owned by his parents, Jim and Alice Neader.
Mike learned the McDonald's business by holding each position from cook to shift manager before becoming general manager and supervisor of all the JENAN locations, including the first McDonald's of Iredell County that was built by Jim and Alice on Signal Hill Drive in 1975.
Mike and Melissa Neader became McDonald's owner/operators after they were married in 1991. They purchased the original Mooresville location, that was built in 1978, and have grown M. Neader Management to a total of nine locations throughout Iredell County.
M. Neader Management, which started with 55 employees, now has about 600 employees.
With their success, Mike and Melissa have expanded their involvement in the community in many ways, from sponsorships, donations, and attending events to being in multiple parades.
The McCoupe, which the Neaders acquired from their long-time friend, is the latest chapter in this story.