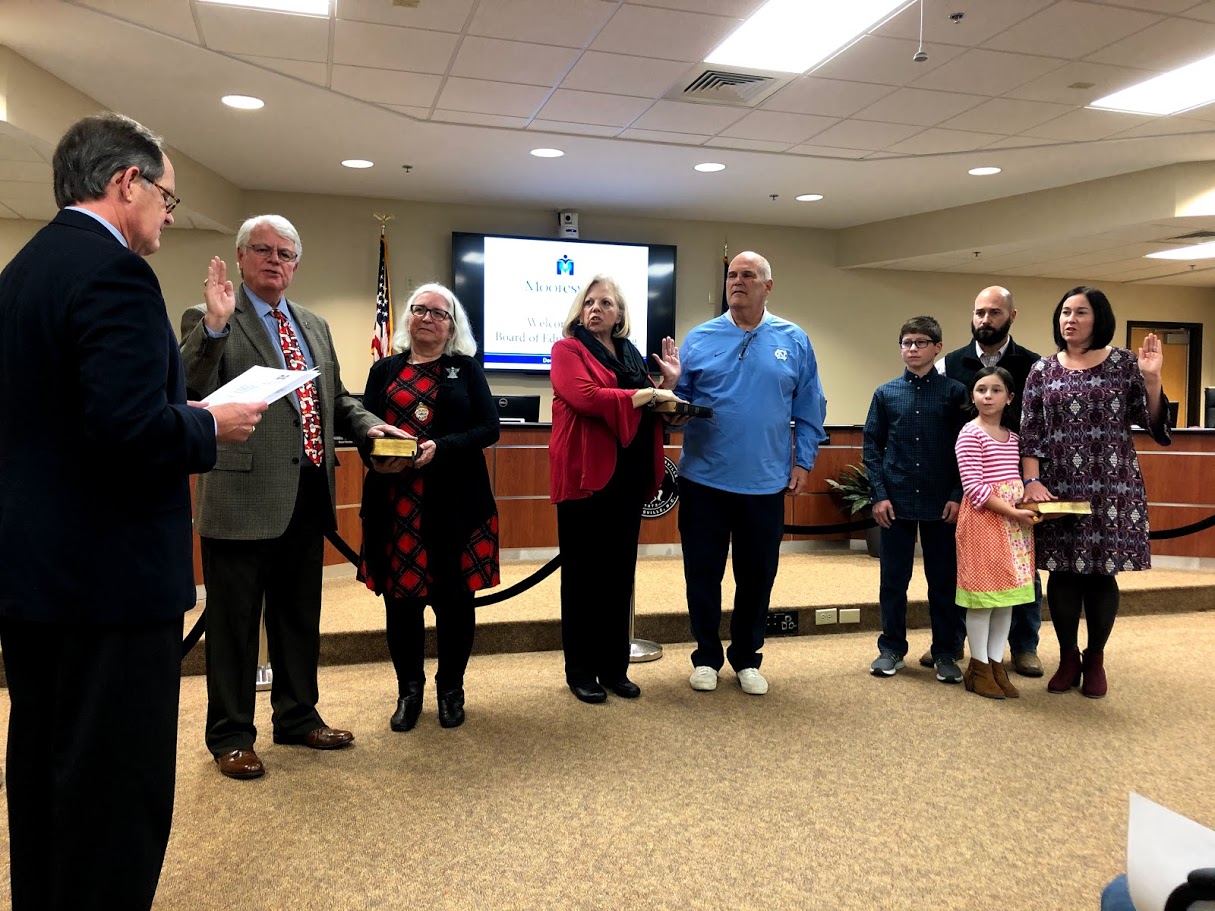 BY DEBBIE PAGE
debbiepage.iredellfreenews@gmail.com
N.C. Representative John Fraley administered the oath of office to recently re-elected Mooresville Graded School District Board of Education members Roger Hyatt, Debbie Marsh and Kerry Pennell during Tuesday's board meeting. The board again selected Hyatt as chairman and Greg Whitfield as vice chairman for this coming year.
The board then got down to business, hearing several presentations and recognizing many students and staff members for their accomplishments.
PROPOSED DUAL IMMERSION PROGRAM
Board members heard a presentation from Instructional Specialist Jemma Conley about a proposed Dual Immersion Program, which drew several concerns from board members.
After visiting several school districts and consulting with Participate Learning (https://www.participatelearning.com), which assists with such programs across the state, the district staff favors a 50-50 dual immersion with an A/B day format, alternating student instruction in English and Spanish.
Students would be taught their lessons in all subjects one day in English and continue their lessons next day in Spanish, with no repeating of lessons.
If approved and parent interest warrants implementation, the program would begin with 40 to 48 kindergartners in two classes at each of the system's three elementary schools. Dual immersion students would be taught by a native Spanish-speaking teacher paired with a NC-certified English-speaking kindergarten teacher.
Conley said 45 families have already expressed interest in the program, with applications open December 18 through January 18. Conley said the district is reaching out to area daycares, pre-K programs, and the Iredell County Partnership for Young Children to publicize the potential offering.
Participate Learning would recruit the Spanish-speaking teachers for the program and provide professional development and training for all teachers and principals involved. If the board approves and kindergarten registration in February is sufficient to sustain the program, the company can quickly start the hiring process for teachers.
The company also provides frequent informal student progress evaluation measures as well as more formal testing to evaluate students' progress in both languages.
The system would ask the state for class-size waivers (from 18 to 24 students) to accommodate the program. Up to 33 percent of the system's kindergarteners could potentially be in the program.
Marsh questioned how students would meet N.C. learning standards in the program. Conley said the students would study the same curriculum, just using two different languages. The MGSD teacher would plan with the Spanish teacher to ensure state learning standards were met and the curriculum completely covered.
Conley said that parents would be informed that their children might not read as quickly as non-immersion program students at first, but students in the program catch up by first grade and usually exceed their counterparts in second grade, according to data collected from other dual immersion programs, which is why parents are being asked to make a three-year commitment to the program.
Marsh then expressed concerns about how lower test scores in the state EVASS system would affect teachers' evaluations. Conley said that Participate Learning's Case 21 tests were comparable to state check-ins and that iStation (in English and Spanish) data would also be available.
Superintendent Stephen Mauney also assured Marsh that at a local level, no teacher would be penalized for teaching in the program.
Marsh, who believes kindergarten is already too focused on academics and neglecting important social and emotional development, worried that students in the program would be tested even more. Conley said no additional formal testing would be required.
If a student seems to be falling behind because of a learning disability or other reason, Conley said the 45-minute enrichment period time could be used to provide the student with extra support.
Mauney stressed that this presentation was informational at this stage and that the district was gauging community interest. He invited board members to go with staff on visits to dual immersion schools in January to help answer any questions and concerns.
He noted that this program would provide an important learning opportunity for system students. "We are behind the curve for equipping our students for global success and diversity," he said.
The superintendent also noted that the board would need to consider how to continue the program after fifth grade so students would not lose the language skills that they had gained.
Principals he spoke with told Mauney that there will be "bumps and hiccups" in implementing dual immersion but that "the benefit to the community is huge." Mauney also added that the system needs to be competitive with surrounding school districts who offer this option.
Hyatt, who shared some of Marsh's concerns, said board members had homework to do and visits to make in the near future to learn more about the program before it returns to their agenda in February.
DUAL IMMERSION PARENT INTEREST MEETING
Staff will be holding a dual immersion informational meeting for parents of rising kindergarteners on Monday, December 16, from 6:30 to 7:30 p.m. at the MHS Performing Arts Center. For more information, visit https://www.mgsd.k12.nc.us/school-news/details/~board/district-news/post/mgsd-dual-immersion-interest-meeting.
After the session, parents of 5-year-old children (by August 31, 2020) may sign up for early enrollment in the proposed dual immersion program.
Parents can also choose to complete an online application (available from December 18 to January 18). Families will be notified about their enrollment status for the program by the end of January.
All MGSD families will still need to register their rising kindergarteners on Thursday, February 13, during MGSD Kindergarten Registration regardless of whether they have been placed in the dual immersion program.
On registration day, parents will need to provide a certified copy of the child's birth certificate, immunization records, and two proofs of MGSD residency (utility bill, tax bill, voter registration, etc.).
WEB PROGRAM AT MMS
Mooresville Middle School teacher Michael Fulton and counselor Michael Genson and their eighth- grade "Where Everybody Belongs" (WEB) team students presented information about this new program that helps seventh graders successfully transition to middle school's social and academic demands.
The trained WEB students periodically check in on their younger classmates, both formally and informally, and report back to staff and the WEB leadership counsel if the students present requests or concerns.
Fulton and Genson were thrilled with the early success of the program, which takes three to five years to fully implement. They feel they are "ahead of the curve" compared to fellow trainees who are implementing the program in other school districts.
Mooresville MIddle is already beginning to see a culture shift that they hope will transfer as the eighth-graders move onto the high school. The program will expand to add more academic support from WEB team leaders and staff during the second semester.
They plan to grow the program from the current 45 WEB team members to 60 next year to accommodate the growing number of seventh grade students entering MMS.
Students reported that WEB team members learned teamwork, communication skills, flexibility in thinking, and became more outgoing.
Seventh-graders reported less stress, more enthusiasm about school, and a greater sense of belonging. They also became acclimated to the school and its rules and procedures more quickly through the program's team-building games and activities at the beginning of school and during homeroom sessions throughout the year.
RECOGNITIONS
♦ MGSD Board member Dr. Debbie Marsh was recognized for being elected to serve on the governing Board of Directors of the North Carolina School Board Association (NCSBA).
♦ Third-year Park View Elementary School teacher Leanne Rose was recently named the North Carolina Center for the Advancement of Teaching (NCCAT) Beginning Teacher of the Year. Rose won $5,000 cash prize, $250 in instructional supply funds, and a GoGlobal NC trip to Australia in 2020.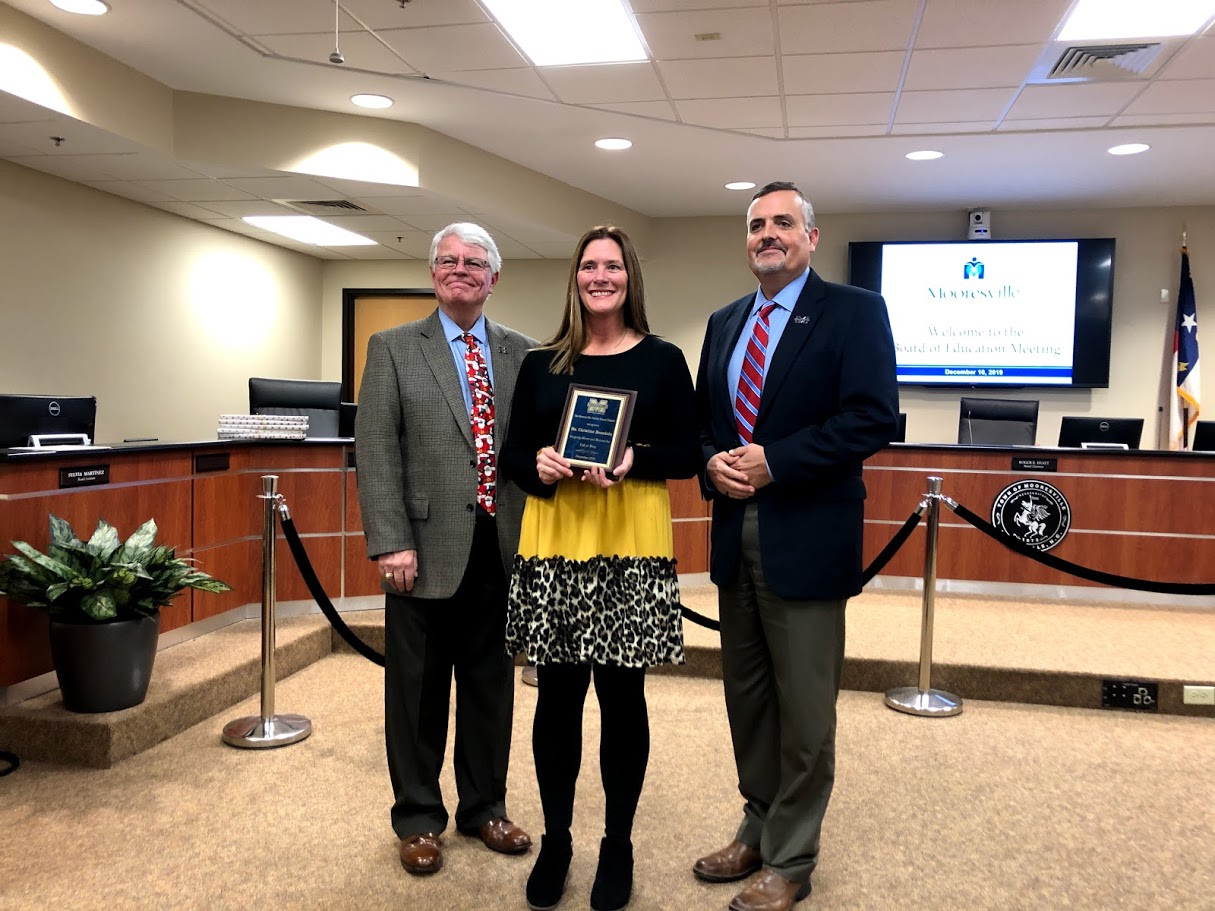 ♦ South Elementary School Teacher Assistant Christine Beaudoin received the December "Above and Beyond the Call of Duty" award. Principal Dr. Mark Cottone said her "positive and inspirational face" and her "zest and passion for students, learning, and growing has been a tremendous influence on the culture of our school."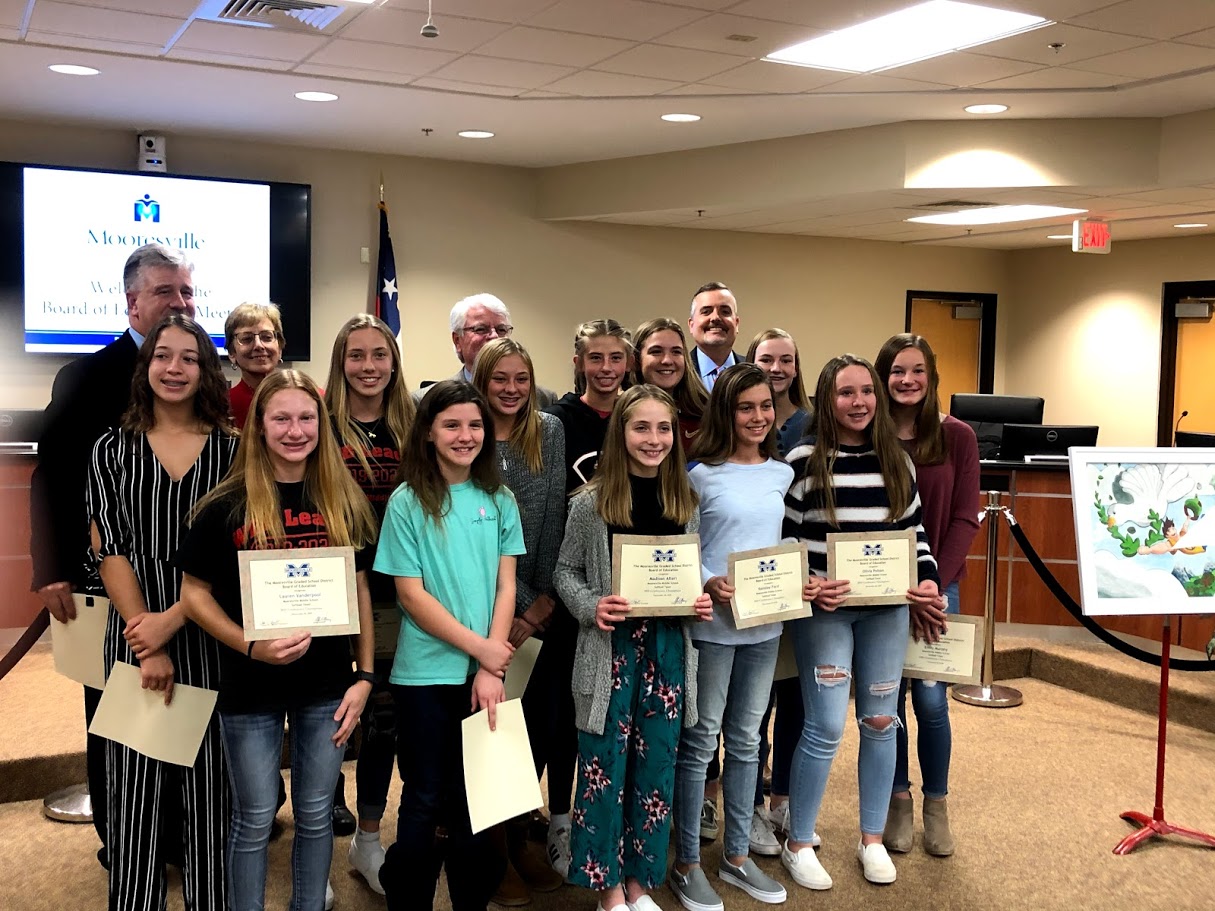 ♦ The board congratulated the undefeated conference champion eighth-grade Mooresville Middle School softball team, which had a 17-0 season and outscored its opponents 206 to 12. The team has a 33-1 two-year record and has won the conference championship two years in a row.
Team members are Lauren Vanderpool, Campbell Schaen, Maddie Colby, Cadence Lane, Avrelle Harrell, Bella Noble, Emily Murphy, Kensley Ford, Katelyn Brandon, Kami Bodine, Sam McIntosh, Madison Alteri, Mia Wraight, and Olivia Polson. Coaches are Johnny Meadows, Brandon Piper, and Josh Schaen.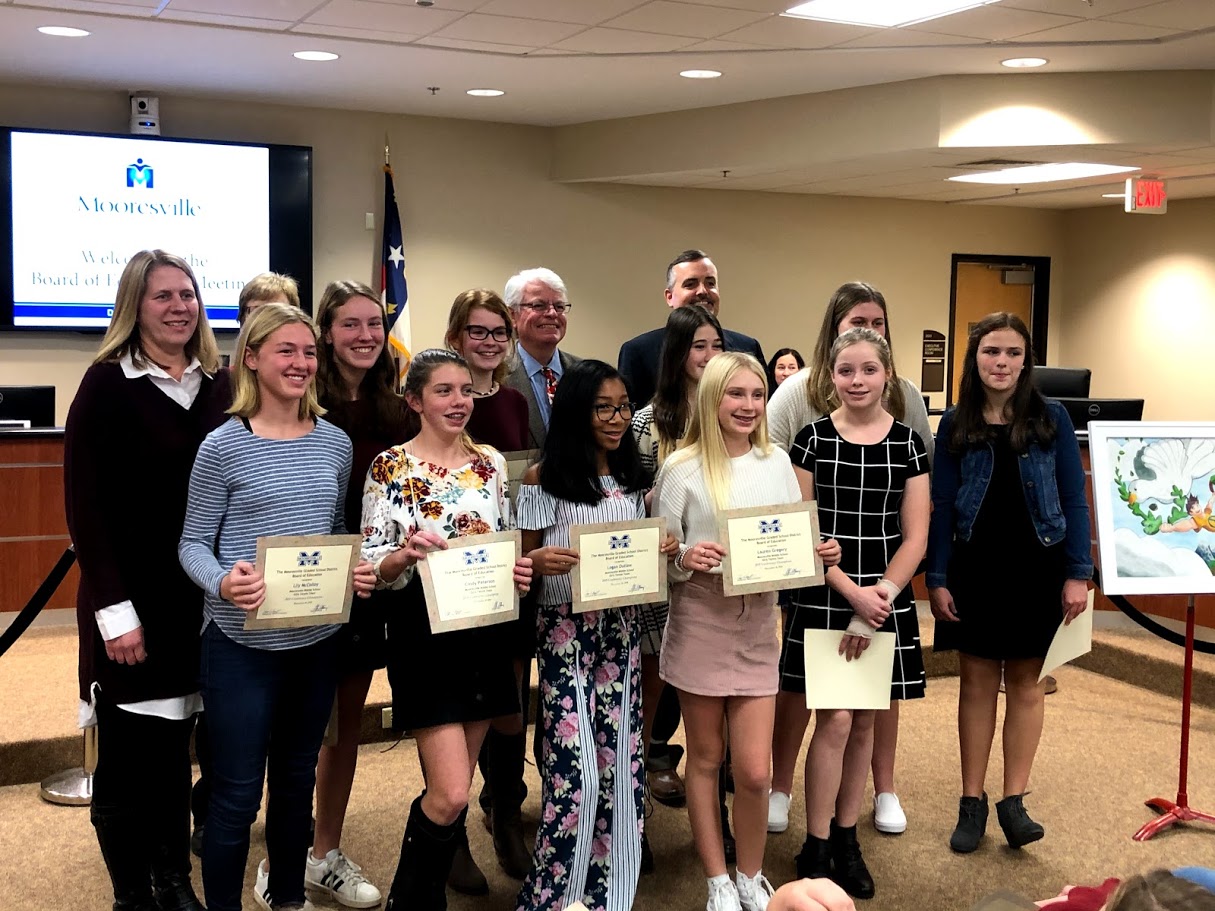 ♦ The undefeated conference champion Mooresville Middle School girls' tennis team was also recognized for its accomplishment.
Team members are eighth-graders Lauren Gregory, Faith Fellores, Alyssa Fink, Lily McColley, Bailey McIntyre, Logan Outlaw, Cindy Peterson, Paige Sarver, Ava Welborn, and Fayth Witthoft. Coaches are Napoleon Lowery III and Amanda Sarver.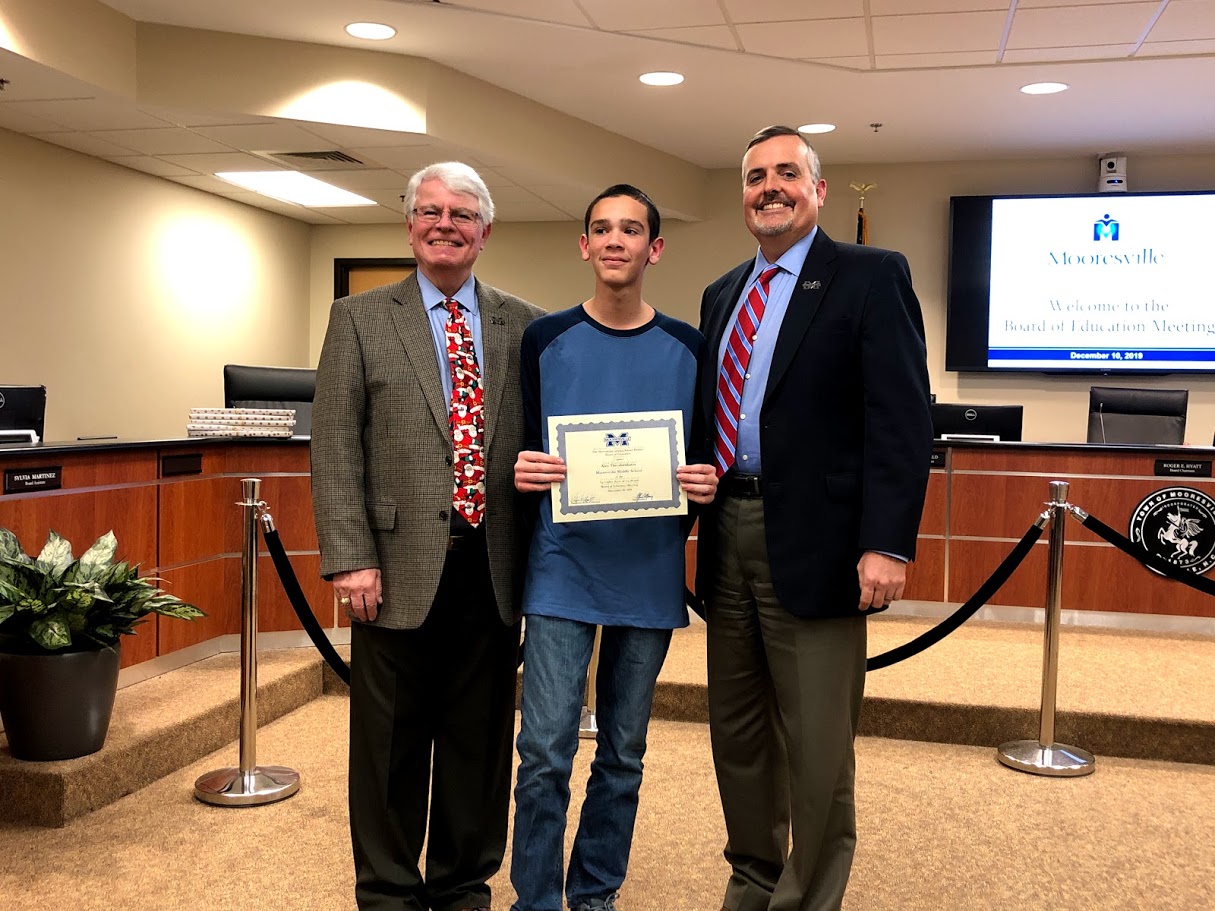 ♦ Mooresville Middle visual arts student Alex Theodorakatos was honored by the board after being nominated by his teacher Jennifer Lindsey for his "amazing" drawing and computer-generated art and "his extraordinary ability to quickly understand concepts and then apply them to real world situations." His art will be on display at the MGSD Central Office this month.
♦ MMS students Gavin Arnold and Caleb Witherspoon led the Pledge of Allegiance for the meeting. They were nominated by their teachers because they are kind, supportive, and "bring joy to every person that they interact with at Mooresville Middle School."
SCHOOL BOND INFORMATION
Chief Communications Officer Tanae McLean told board members that the district will host a series of informational meetings after Iredell County commissioners recently approved a $126 million school facility bond to be put on the ballot for voters' approval in March.
If passed, the bond would add 1 cent per $100 valuation on residents' county property taxes (i.e. $25 on a $250,000 home). For MGSD, the bond would fund a much-needed middle school, as well as renovations at South and Parkview Elementary schools.
The first community information on the proposed bond will be on Tuesday, January 21, at 6:30 p.m. at the MHS Performing Arts Center. Other meetings will be announced soon.
OTHER BUSINESS
♦ The board unanimously approved the 2020-21 school calendar, a student field trip to Mooresville sister city Hockenheim, Germany, and a North Carolina School Board Association (NCSBA) resolution asking the N.C. General Assembly to replace funds withheld unconstitutionally from NC school systems ($2.8 million would go to MGSD).
♦ The board also approved technical changes to some board policies suggested by the NCSBA that were presented last month and received a recommendation for technical changes to 13 more to be considered on next month's agenda.
♦ The board also heard a first reading and gave temporary approval to School Board Policy 7241, again urged by the NCSBA, to comply with a federal law going into effect in January that all school systems and bus drivers must be registered with a federal clearinghouse.
The purposes of this policy are to help ensure the safe operation of school vehicles and to comply with federal law and regulations by establishing a comprehensive program for the drug and alcohol testing of school bus drivers and all other commercial motor vehicle operators employed by the board of education.
♦ Chief Operations Officer Mike Royal reported that the district will begin using the state's "Say Something" program in early spring in the third wave of its implementation. Students and staff will receive training prior to the rollout.
The "Say Something" school safety program, which includes an anonymous mobile tip app, is designed to change and save lives by teaching students, educators, and administrators to recognize the signs and signals of students who may be at risk of hurting themselves or others.
They can anonymously report this information through the mobile phone tip app, the website (https://www.saysomething.net), or the telephone crisis hotline at 1-844-5-SAYNOW (1-844-572-9669).
North Carolina is partnering with the program developer, Sandy Hook Promise, to launch the program across the state.
♦ Scott Smith, assistant superintendent of Elementary Instruction, reported that intermediate schools are deploying laptops to third-graders this week and next week.
♦ Todd Black, assistant superintendent of Secondary Instruction and Career and Technology Education, reported that 40 percent of Mooresville High's seniors took the ACT WorkKeys Assessment. To qualify, students must have completed four Career and Technology courses and be on a career pathway (taking both the level I and II of a CTE course).
However, in 2021, Black expects that number to climb to 70 percent or more when the state drops the requirement to only two CTE courses (one pathway with level I and II course).
NEXT BOARD MEETING
The next MGSD Board meeting will be on Tuesday, January 14, at 6 p.m. at the Mooresville Town Hall.