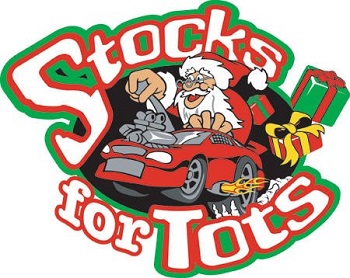 Event collects toys and raises money to increase awareness of child abuse in North Carolina
Special to Iredell Free News
The 31st annual Stocks for Tots holiday event and fundraiser will be held Tuesday, December 10, at NASCAR Technical Institute in Mooresville.
The event, which started in 1989, has raised more than $1 million and collected more than 70,000 toys to help raise awareness of child abuse in North Carolina.
Each year, thousands of fans have attended the event, where they can meet many of their favorite NASCAR drivers from the Monster Cup, Xfinity, Camping World Truck Series and the Whelen All-American Series.
NASCAR Hall of Famers Bobby Allison, Bobby Labonte, and Jerry Cook will be on hand. Current drivers scheduled to participate include Ryan Newman, Chris Buescher, Joe Nemechek, Cole Custer, Todd Gilliland, Gray Gaulding, Austin Theriault, and Tim Brown.
Other Legends include Don Miller, Humpy Wheeler, former Cup crew chief Buddy Parrott, former Cup drivers David Ragan, Kevin Lapage, Randy LaJoie, Todd Bodine, David Gilliland, Tim Fedewa, Jerry Nadeau and others.
NHRA and IHRA Drag Racers will be represented by Greg Anderson, Jason Line, Doug Herbert, Buddy Martin, and Herb McCandless. Media personalities such as Mike Joy, Ralph Sheheen, Winston Kelly, Larry McReynolds and others will be on hand.
The money raised will support the Stop Child Abuse Now (SCAN) nonprofit organization, which is dedicated to helping children, supporting parents and improving the community.
Don Miller, chairman of the Stocks For Tots Foundation and the North Carolina Auto Racing Hall of Fame, is noted for his humanitarian efforts as the recipient of the inaugural NASCAR Humanitarian Award.
"This is the most worthy thing we do," said Miller. "We've been collecting toys at our hall of fame and other locations in the area."
"I am as excited as Don to hold Stocks For Tots at NASCAR Tech again this year," said John Dodson, VP Business Alliances & NASCAR at NASCAR Technical Institute. "With all the great drivers who will be here signing autographs, the fans will be in for a special treat while helping a truly worthwhile cause."
The Stocks For Tots fundraiser at NASCAR Tech will begin at 5 p.m. and will end at 9 p.m. The event requires wristbands to enter the event, obtain autographs and/or attend the silent auction and gift shop.
This year a special $100 ticket is offered for fans who want to be in the first 50 people in line for the autographs. The North Carolina Auto Racing Hall of Fame will sell the tickets.
General admission tickets are $25 and only 200 of these tickets will be sold. Order tickets by calling 704-663-5331 or by visiting the North Carolina Auto Racing Hall of Fame located at 119 Knob Hill Road in Mooresville, NC.
NASCAR Technical Institute is located at 220 Byers Creek Road in Mooresville.
Stocks For Tots was created as a way to bring together stock car racing and its fans while raising awareness of the child abuse problem in North Carolina. The idea was to collect toys and raise money during a festive, family-oriented holiday event. For more information on the event visit their Facebook page at facebook.com/stocksfortots.