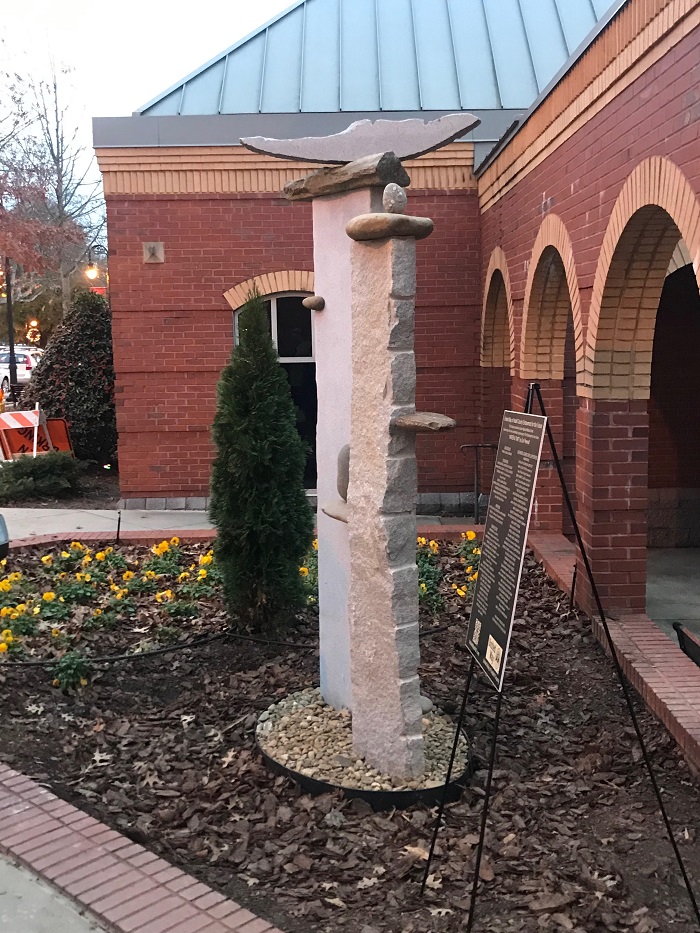 BY MIKE FUHRMAN
A small group of community leaders gathered in Downtown Statesville, near the hustle and bustle of the Holiday Shop & Stroll Spectacular, on Friday evening to unveil a monument that celebrates the giving spirit of Iredell County.
"Water & Time," a Carl Peverall sculpture, honors those who have supported the United Way of Iredell County's Endowment for the Future campaign. Made of granite and river stones, the 9-foot-tall sculpture also pays tribute to the enduring impact the endowment will have in this community.
The endowment campaign was inspired by Frank and Linda Johnson, who challenged the United Way's leadership to raise $1.9 million dollars for the endowment in two years. Spearheaded by Barry and Anna Gordon, the endowment committee shattered that goal, raising $2.4 million in half of the time.
Endowment Challenge Coordinator Robb Collier told the crowd that gathered outside the Statesville Civic Center on Friday evening that the new sculpture was placed in a public setting because the fundraising drive was a true community effort.
The United Way will use the $3.4 millionn endowment to fund critical and emerging needs in the community as they arise for decades to come.
"This endowment is going to be transformative for our community," Collier said.
The sculpture was made possible by the financial support of Davis Regional Medical Center. "It's an absolute privilege to be part of this," CEO Josh Snow said.
During Friday's ceremony, Julia Wilson read a poem about the artwork, which was written by the sculptor:
Water & Time
Water and Time,
so generous with persistent contribution,
carves fallen mountain shards into sensuous stones
and
sustained the evolution of fins into legs
and
brought our kin ashore in simple boats over perilous seas
and
moves the elemental dust from exploded stars
in blood through flesh
to become thought~
and
feeling
and
art.