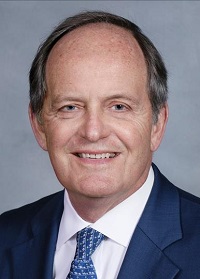 Special to Iredell Free News
Rep. John A. Fraley, who represents Iredell County's 95th District in the N.C. House of Representatives, announced Tuesday that he will not file for re-election in 2020.
Fraley will complete his third term in the House at the end of 2020, capping six years of service.
"After a long career in home textiles, I simply wanted to see what I could give back through public service," Fraley said in a news release. "This experience has exceeded all my expectations due to the amazing community and people I have been able to represent, the excellent elected and community officials I have worked with, the broad range of issues the Legislature has faced, and the truly important opportunities I have had involving education in North Carolina.
"It will take quite a while to thank everyone for all they have done for me in this job," the Republican lawmaker added.
Fraley started his service in 2015 and was elected the freshman majority leader by his colleagues. Since then, he has taken on additional responsibility as co-chair of Education Appropriations, co-chair of Education Policy-Universities, and vice chair of Appropriations. He also serves on the Transportation, Health, Education K-12, Rules, Calendar and Operations of the House and School Safety Committees.
Fraley also serves on the Joint Legislative Standing Committees in Education Oversight, Economic Development and Global Engagement, Transportation Long Term Planning and Funding and Program Evaluation Oversight. Additionally, he has devoted significant time to the My Future NC Commission, which focuses on workforce development and attainment and serves on the Commission's Board of Directors.
Fraley said he looks forward to serving out the remainder of his term, working with his replacement in the House to assure a smooth transition, continuing his work with the My Future NC Commission, to explore continued involvement in North Carolina's higher education community, and to have more time to have fun with his wife Adelaide, and his family and friends.