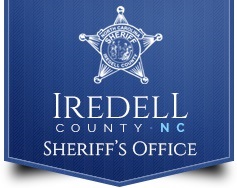 BY MIKE FUHRMAN
Iredell County Sheriff's Office investigators have identified a homicide victim whose skeletal remains were found near Mooresville almost 11 months ago as a missing Charlotte woman.
DNA analysis was used to determine that the bones found scattered off Bridgewater Lane were the remains of Anastasia "Star" Meaders, 29, who was last seen in July of 2016, Sheriff Darren Campbell said on Tuesday.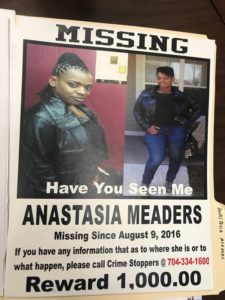 A medical examiner determined that Meaders died after being shot in the head, Maj. Andy Poteat, who heads up the ICSO Criminal Investigations Division, told Iredell Free News.
"Detectives across several divisions and jurisdictions have worked extremely hard to identify this victim and try to help the family find closure," Campbell said.
The victim's identity and the cause of her death were determined during 10 months of work, which began with detectives collecting approximately 70 bones on January 15-16. Those remains were autopsied at Wake Forest Baptist University, and a forensic anthropologist and forensic dentist at N.C. State University assisted in efforts to identify the victim, authorities said.
Meaders was reported missing in August of 2016.
"Her family became concerned when she did not come to the hospital" to see her mother, who had been shot in the head and left for dead during an attack in which her boyfriend was killed, Poteat said.
Kimberly Cherry, Meaders' mother, survived that shooting. Based largely on her testimony, a Concord man was convicted of murder, attempted murder and other charges in that case in February of 2018.
Meaders' vehicle — a 2007 Chevrolet Impala with a large amount of blood in it — was found in Liberty Park in Mooresville in the month before she was reported missing, the sheriff said.
Investigators believe Meaders' killer dumped the car in the park after she was killed and her body was disposed of.
No charges have been filed in connection with Meaders' death.
"A major clue in this investigation is identifying the person or persons who gave the suspect a ride from Liberty Park after the victim's car was left abandoned," Poteat said.
Anyone with information about this case is asked to call the ICSO at 704-878-3180. The sheriff has also activated the homicide tipline, which can be reached at 704-928-9804.
"We need the public's help to bring the killer to justice," Campbell said.