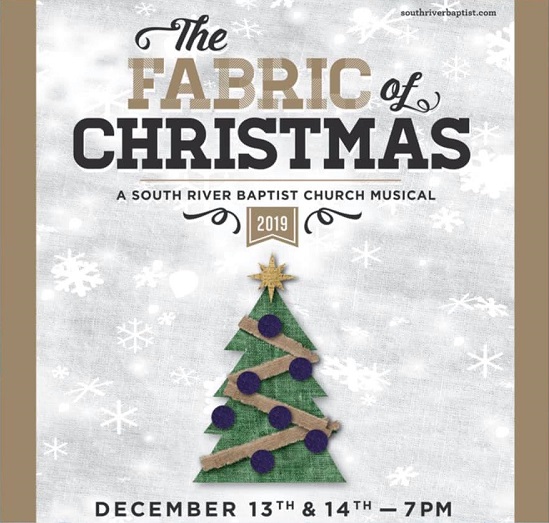 Special to Iredell Free News
South River Baptist Church's River Worship Choir, drama and technical teams will present an exciting dramatic musical, "The Fabric of Christmas," in the Family Life Center of South River Baptist Church, located at 2659 South Chipley Ford Road in Statesville, on Friday, December 13, and Saturday, December 14.
The event, which begins at 7 p.m. each night, is free and open to the public. All are welcome.
South River Baptist Church enjoys a history of biblical dramatic musicals mostly presented during the Easter season. For several years now, Christmas season presentations have shown the musical abilities within the church more than the dramatic.
This year the Celebration Choir of South River will present "The Fabric of Christmas." The desire of the Senior Pastor, Dr. Chris Thompson, has been to produce a biblically focused drama which allows the viewer to contemplate the nature and roles of Jesus Christ, the Son of God.
After Thompson shared those ideas with Worship/Senior Adult Pastor Chris Pauley, the two have written an engaging, personal and humorous story through which all may see more clearly just how marvelous is this Jesus. Viewers will experience a deeper biblical understanding of Jesus the Messiah, who was wrapped in swaddling cloths in the manger.
The the whole church has been in this production, including:
• Set construction & props crews
• Set design artists
• Biblical costume designers and managers
• Technical crew for sound and lighting
• Adults and students in River Worship Choir
• Children's choir members with teachers
• Publicity, parking, greeters, prayer partner teams
• Parking crew with greeters and prayer partners
• Cast and crew of 60
LEARN MORE
For more information, visit www.southriverbaptist.com or call the church office at 704-876-1520.