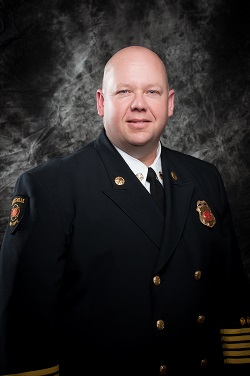 Special to Iredell Free News
Statesville Fire Chief Spencer Lee has tendered his resignation, effective next month.
The city announced his departure Tuesday in a news release. Lee is stepping down for family reasons and the pursuit of other opportunities, according to the news release.
"This is the right decision for my family at this time," said Lee, who has served the department as fire chief since March 2017.
Statesville City Manager Ron Smith said Lee will continue working through mid-December. Smith has been impressed with Lee's leadership and intends to utilize his insight and knowledge in developing a process for selecting the next chief.
Smith praised Lee for his accomplishments, including the successful re-accreditation of the fire department and improvement of the ISO insurance rating from 4 to 2.
The receipt of two SAFER grants (Staffing for Adequate Fire & Emergency Response) contributed to the addition of nine new firefighters to the current staff. The replacement of three fire trucks, including the recent ladder truck, have taken place in the past 31 months. Lee also oversaw the implementation of a new career development plan.
"Statesville has a very talented department," said Lee. "It has been an honor to serve the citizens of Statesville and I will always be grateful for this opportunity."
Smith's plans for naming an interim chief and the hiring process for a new chief will be announced later in December.