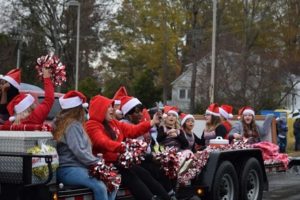 BY DEBBIE PAGE
debbiepage.iredellfreenews@gmail.com
The Troutman Christmas Parade is scheduled for Saturday, December 7, at 11 a.m.
Organizations, bands, and others are welcome to complete an application to participate for planning purposes by Wednesday, November 27. There is no registration fee.
In lieu of an application fee, the town is instead asking each entrant to donate at least one new, unwrapped toys for the Marine Corps' Toys for Tots program. The organization is in need of toys for all ages of children but usually has more difficulty getting toys for children 12 years and up.
The Town of Troutman is also asking the community to donate toys for the Toys for Tots program by bringing them to the Town Hall donation boxes before and on parade day.
PARADE DETAILS
The parade will leave from the Career Academy & Technical School (CATS) at 350 Old Murdock Road and travel southwest to North Eastway Drive and then down Eastway to Troutman Baptist Church.
The Christmas parade, revived in 2016 after being dormant since in 1966, will feature beauty queens, local dignitaries, show cars, dancers, police and fire vehicles, and holiday-themed floats.
Entrants must be at the staging area located at CATS at the Auto Tech entrance at 258 Murdock Road, no later than 10 a.m. the morning of the event.
If you have questions, contact Angela Hoover at the Town of Troutman at 704-528-7600 or email her at ahoover@troutmannc.gov. Applications are available online at https://www.troutmannc.gov in the "Troutman Annual Events" section or can be picked up at Town Hall.
ENTRANT INFORMATION
Once the parade has started, no one can get off and/or on any vehicle, even if it is not moving.
Supervise any children in the parade group very closely. The town does not want anyone to get run over or fall off a vehicle or float.
Do not throw any objects, including candy, during the parade. If entrants want to give out candy or other items, they must have someone from the group alongside the float to directly hand out the items. This prevents any children/spectators from coming into the parade travel area, increasing the risk of getting hit or injured, and also helps keep the town clean.