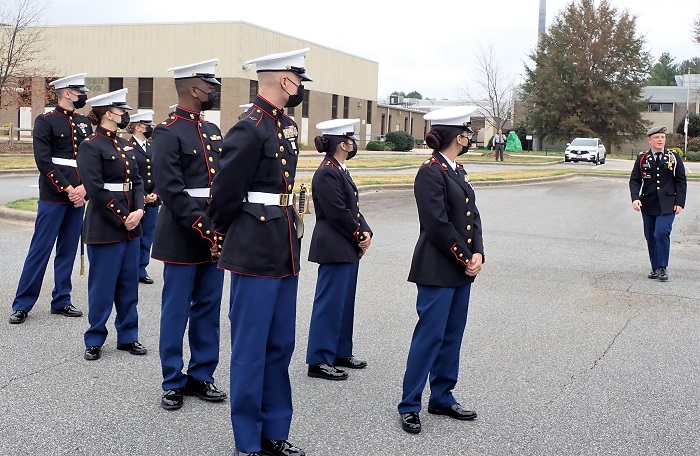 The students honored all veterans with a special drive thru ceremony Tuesday. The celebration took place a day early because the school is closed on Wednesday, which is Veterans Day.
BY KARISSA MILLER
William Thomas "Tom" Poston was stationed in Hawaii in 1945 when he heard the news that World War II was over.
On that day, he said, time stood still.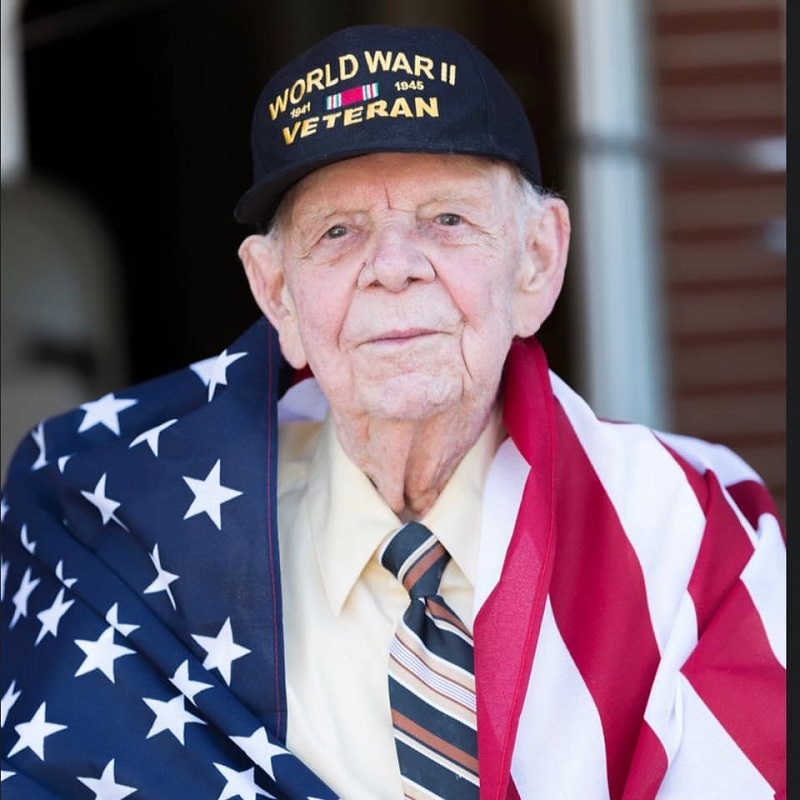 After enlisting in the Air Force in 1942, Poston studied aircraft mechanics and flew as an engineer on a B-17.
His brother, Paul Poston, was killed in combat in World War II less than a year after joining the military.
Memories of happy times and personal losses were shared on Tuesday as those who served in the armed forces gathered for a Veterans Day ceremony at West Iredell High School.
Another veteran, Mooresville resident Jimmy M. Moore, served his country from 1968 to 1970 after being drafted.
"He was standing in line for the Army, but they came back and said, 'You! Go over there.' That's how he ended up in the Marines," explained his wife Mildred Moore.
Their son served in the Navy and was deployed to Guam during the 1990s. The Moores can remember that time like it was yesterday.
"I didn't get to see him for three and a half years. That was just …" Mildred recalled. "He called every month. We said the 15th of the month. Sometimes he had to call a day before, sometimes it was a day or two after. I didn't go anywhere for those days until I got those phone calls."
While veterans weren't able to exchange stories over a barbecue luncheon, the stories continued and lunch was put into carryout bags. New traditions were made.
The school event, in coordination with the WIHS chorus and band, was planned by the West's Army Junior ROTC along with South Iredell High School's Marine Corps Junior ROTC.
Veterans Day Ceremony
The school campus was covered in red, white and blue as a caravan of cars made its way through the parking lot on Tuesday morning.
Veterans honked their vehicle horns after the Warrior band played a tribute medley to the armed forces.
The chorus, which stood in front of one of the largest American flags most people have ever seen, waved small American flags as they sang "God Bless the USA," which elicited tears from some guests and goosebumps from others.
Around 165 veterans attended the event, held annually so students can thank those who have served in the military and those who are currently serving.
Due to the pandemic, the school switched to a drive-thru ceremony to honor all local veterans. The event normally takes place in the school's gym.
"We are honored and humbled to have you participate in today's ceremony. We have spent the last few weeks preparing for this day. We are excited that you are here," Cadet Lt. Col. Jayden Anderson said in his welcome address.
Principal Ellyn Gaither said that the students, faculty and staff always look forward to honoring veterans from Iredell County.
"We have a lot of innovative people on our staff," Gaither said. "They still wanted to do all of the ceremonial aspects of what they would do inside (to honor all of the veterans) and recognize them during these trying times."
Cadets also kept with the tradition of recognizing the oldest veteran. This year, Poston, who is 99 years old, will receive a flag from the cadets.
Each military service flag was displayed as well as an American flag, POW flag, state flag and school flag.
Sgt. Reggie Hooker and Lt. Col. Eric VanVliet are the instructors of the JROTC program.
"I tell them Day One if you don't like the color of their skin, nationality or religious preference of your classmate, you aren't going to make it," Hooker said. "This is a family concept that we are instructing in our program. That's why we are so successful and strong."
For Sgt. Quadaris Gibbs, a 2012 West grad, that family concept is why he gets involved each year.
Gibbs helped prepare the barbecue for veterans with Cooking for Christ on Tuesday.
"It's hard to put it in words. It's even more special for this to be my first one since returning from this deployment and amidst the pandemic. It's beautiful to see people coming out to honor these veterans," he said.
Photo Gallery