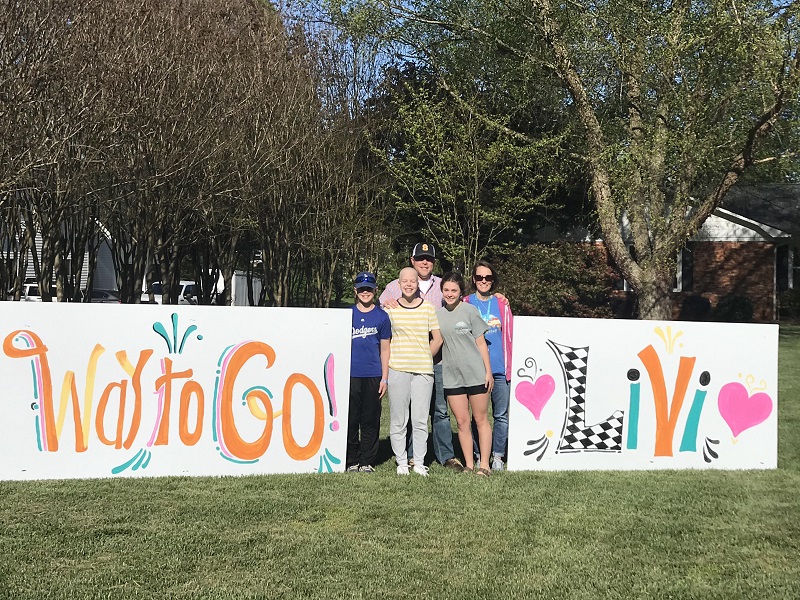 Community rallies behind local teen during battle with aggressive lymphoma
BY MIKE FUHRMAN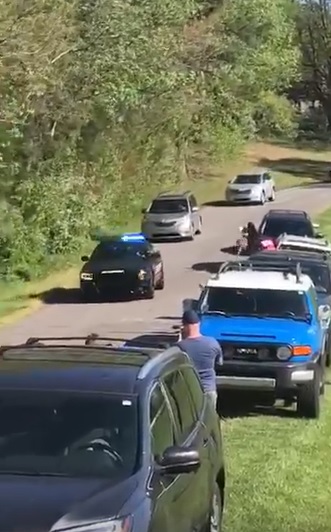 Livi Peck knew something was up when two Iredell County Sheriff's Office deputies escorted her family the last couple of miles to her house on Thursday after she finished four hard days of chemotherapy at Levine Children's Hospital.
The 13-year-old daughter of Jeff and Kelly Peck also thought it was a bit odd that — according to her Snapchat account — a bunch of her friends from school were hanging out near her house in the Baymount neighborhood at precisely the same time.
So Livi's surprise welcome home wasn't exactly a surprise, but that didn't diminish the joy she felt seeing her friends and neighbors for a few minutes. There were signs and balloons and Chick-fil-A – her favorite.
"The signs were pretty cool," the Northview IB seventh-grader said. "It looked like it took a lot of time. It was pretty exciting. I didn't expect that many people to be there."
The celebratory homecoming came less than a month after Livi was diagnosed with Burkitt lymphoma, a rare but highly aggressive form of non-Hodgkin lymphoma.
'Your worst fears have come true'
After Livi complained of a swollen lymph node in her neck in late November, her parents took her to the doctor, who diagnosed her with mononucleosis, a viral infection that often causes fatigue, fever, rash, and swollen glands.
In January, Livi came down with the flu. Noting that the swollen gland had not improved, her doctor ordered blood tests. When the results were normal, the teen was referred to the pediatric hematology unit at Levine Children's Hospital.
Additional bloodwork yielded the same results – there was no indication that Livi was seriously ill. The doctors at Levine speculated that perhaps she had a cyst, her parents said, but they scheduled a biopsy for the first week of March.
Instead of just removing part of the swollen gland to biopsy, the doctor removed the entire gland, which "popped out like a grape," Kelly said.
Two days later Kelly was home alone when the doctor called and told her the news: Livi had lymphoma.
"It was kind of a freak-out moment — your worst fears have come true," she said.
Later that day Kelly, Jeff and Livi's two siblings – 15-year-old Ela and 11-year-old Milo – went into Livi's room and her parents broke the news: Livi had cancer and they did not know the extent or prognosis – or the treatment plan.
"She just looked at us and said she was sorry," Jeff remembers.
"It broke our hearts," Kelly said."
'She's been the rock'
Over the next few days Livi endured a lumbar puncture, a PET scan, and bone marrow biopsy as the doctors at Levine attempted to figure out if the cancer had spread and the best treatment regimen.
They also implanted a port-a-cath in her chest for the inevitable chemotherapy treatment.
"We were just living on pins and needles," Kelly said.
Burkitt lymphoma often starts in the stomach and can spread rapidly to other organs and tissues.
Throughout the uncertainty in the days that followed, Livi remained calm, and her optimistic outlook impressed her parents.
"She's been the rock," Jeff said.
"She's kept us going," Kelly added.
On March 16, they learned the PET scan was clear and Livi's bone marrow showed no signs of cancer, meaning the cancer was isolated in that one swollen gland.
"It was absolutely the best possible news," Jeff said.
The doctors prescribed two 20-day treatments, each of which included a four-day course of chemo followed by a single doses of another cancer-fighting drug.
Livi stayed overnight at Levine for those treatments, which caused her to be nauseous.
But the teen said it wasn't all that bad. The staff brought her art supplies to paint with, and she did crafts and watched movies. She even kept up with her schoolwork.
Livi loves making Tik Tok videos and the staff at Levine helped her make a dance video after her last big treatment.
WBTV's Molly Grantham shared a video of the dance party, which had more than 28,000 views as of Saturday night.
"It was really exciting," Livi said. "I didn't expect all the nurses to come out and do the dance with me. It only took us two tries."
'We're very grateful and thankful'
As life begins to return to normal – or as normal as possible in world a world dealing with the COVID-19 pandemic, the Peck family remains overwhelmed by the support they have received from friends, neighbors, co-workers and people they don't even know.
"It's been unbelievable," Jeff said. "All the people in the community have rallied around us, been supporting us, asking and begging to help."
Every gesture of kindness – from cutting the lawn to providing meals for the family – is appreciated, he said. Thursday's welcome home was icing on the cake.
"Livi has been a cause for everyone to rally around and support," Jeff said. "We're very grateful and thankful."
"People have done so much when everyone is going through such a hardship," Kelly added. "It's been so humbling and amazing — just overwhelming.
"I don't how we will ever be able to repay everybody for this."