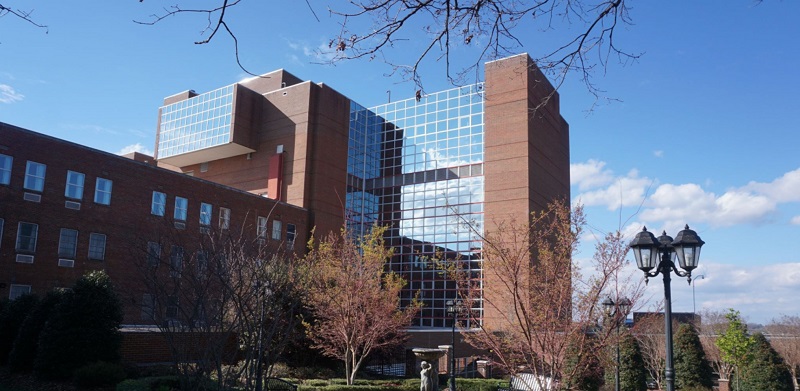 Editor's Note: This is part I of a three-part series.
Hospital has tested more than 1,600 people for COVID-19 since onset of pandemic
BY MIKE FUHRMAN
Iredell Memorial Hospital has been ground zero in the fight against COVID-19 in Iredell County for nearly six months.
More than 1,600 patients have been tested for COVID-19 at the hospital. Some have been hospitalized for nearly a month and been released with long-term impairments. Unfortunately, some have lost the battle against the coronavirus, which has claimed more than 170,000 lives in the U.S.
Iredell Health System President and CEO John Green said the COVID-19 pandemic has created unprecedented challenges for the nonprofit healthcare provider.
"Our team has been truly amazing," Green said. "Policies have changed repeatedly with new guidance or products and we have worked to promptly understand and change. Roles have frequently been altered or augmented in an effort to meet the needs of our community and in an effort to keep the staff working.
"While tiring, our team shows me every day the resolve that I am so pleased to be part of. We are proud to offer locally owned and operated healthcare in our community, for our community," Green added.
Iredell Memorial activated its Incident Command System in early March – just as the county had its first positive test for COVID-19. Administrators reviewed supplies, ensured that the hospital had enough personal protection equipment for patients and staff and enough ventilators and oxygen equipment to manage a possible surge in COVID-19 patients.
"We continue to be in our incident command mode," Dr. Joseph Mazzola, vice president of Medical Affairs for Iredell Health System, said in a recent interview. "We have an incident commander appointed every day to manage the situation."
Iredell Memorial's staff has worked closely with other medical centers in the region throughout the pandemic, sharing best practices and even medication, when necessary. Administrators are in contact with emergency management and public health officials on a daily basis, sharing information on bed availability.
The hospital is using the same incident command preparation strategies that were used for anticipated pandemics like protocols that were in place for SARS, MERS, Zika and Ebola, Mazzola explained.
"This is just one that has come to fruition and hit us with a significant amount of patients," Mazzola said.
Symptoms & Treatment
COVID-19 patients have presented with a variety of symptoms, the most common of which are a cough and shortness of breath.
In the early stages, many of the symptoms of COVID-19 resemble the season flu, and patients typically walk into the hospital under their own power.
"Ambulances are not just streaming into the hospital with critically ill patients and dumping off people. It is kind of a walking illness — you may walk in and then get worse," Mazzola said.
Patients at Iredell Memorial have ranged widely in age. While some have underlying health conditions that place them at higher risk for serious complications, that has not been the case for all patients, hospital officials said.
"We're not just seeing 70- and 80-year-olds with this aggressive disease," Mazzola said. "We're seeing patients in their 30s and 40s — patients of all spectrums."
After exhibiting flu-like symptoms, including fever, body aches and chills, for three to five days, many patients get better. The medical journal JAMA estimated that 80 percent of those who are infected with COVID-19 fall into this category.
Some, however, deteriorate rapidly and their immune system responds with what Mazzola described as "an overwhelming inflammatory response." Those patients end up in the hospital, requiring life-saving interventions and normally a week in the Critical Care Unit.
COVID-19 patients at Iredell Memorial who are seriously ill receive oxygen therapy and the anti-viral drug Remdesivir. They also receive transfusions of convalescent plasma from patients who have recovered from COVID-19. The plasma contains antibodies that fight against the virus.
Half of the COVID-19 patients who have been admitted at Iredell Memorial end up in the CCU, while the others have been cared for in dedicated isolation space for patients with COVID-19. These rooms have frequent air exchanges and the air is vented to the outside of the building to prevent spread of COVID-19, hospital officials said.
"The average stay for a COVID patient is eight to 10 days. We do have patients who have been in the hospital for 20 to 30 days, but that is a small percentage," Mazzola said.
About 20 percent of patients develop pneumonia, which if untreated can be life-threatening. Five percent of the patients end up on a ventilator.
A small number of patients have been transferred to Wake Forest or Duke medical centers because without the assistance of a heart-lung machine they would most likely not survive their illness, hospital officials said.
"This is real. It's a real disease," Mazzola said. "There are many lives and families being affected by this disease. There are people getting this disease and recovering — and, unfortunately, there are people dying from this disease."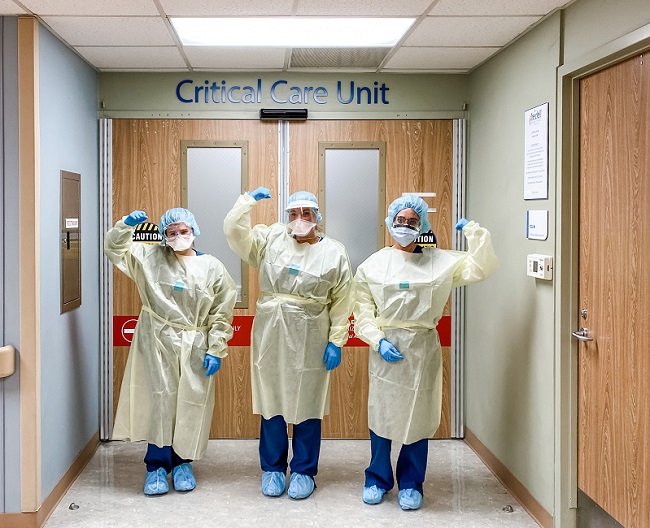 'It just attacks the whole body'
Kathy Lail is the director of Critical Care at Iredell Memorial and an experienced critical care nurse. She's cared for patients with AIDS, SARS and other terminal illnesses. Since March she's dedicated her life to caring those who have tested positive for COVID-19 at Iredell Memorial. Out of an abundance of caution, she did not see her grandchildren for the first two months of the pandemic.
"This COVID is just a different animal from SARS. It's just difficult," she said. "It attacks the whole body instead of just the lungs."
Watching as the novel coronavirus – which has infected more than 5.6 million people in the U.S. alone — damages the organs of otherwise healthy people has been a trying experience for Lail and her team.
"We have several patients in their 40s — the only thing they had wrong was maybe high blood pressure, but they were on the ventilator a long time and never got off and passed away," she said.
Having a loved one hospitalized with COVID-19 is very difficult for the family members, Lail said.
COVID-19 patients cannot have visitors because of the contagious nature of the disease. At Iredell Memorial, nurses help loved ones visit patients virtually through the use of the hospital's Ipads. They've also coordinated Zoom calls for out-of-state family members.
"Even for the ones that cannot communicate, we do that with the family so they can at least see them," Lail said.
Doctors also provide regular updates to the patients' families about their care and how they are progressing.
For patients in their final hours, visitors are allowed.
"If the patient is actively dying, we do have the family to come in and be with that person," Lail said. "I would not want my family member to pass away without me being there."
The long-term patients, she said, become like family members to the nurses, who rejoice when patients recover and go home — and they also grieve for patients who pass away.
The commitment of the nursing staff during the pandemic has been something to behold, she said.
"I am so proud of the team we have here. It's through teamwork and helping each other and coming together – everyone knows the severity of this, but not one of them has said I don't want to take care of a COVID patient. That is amazing to me."