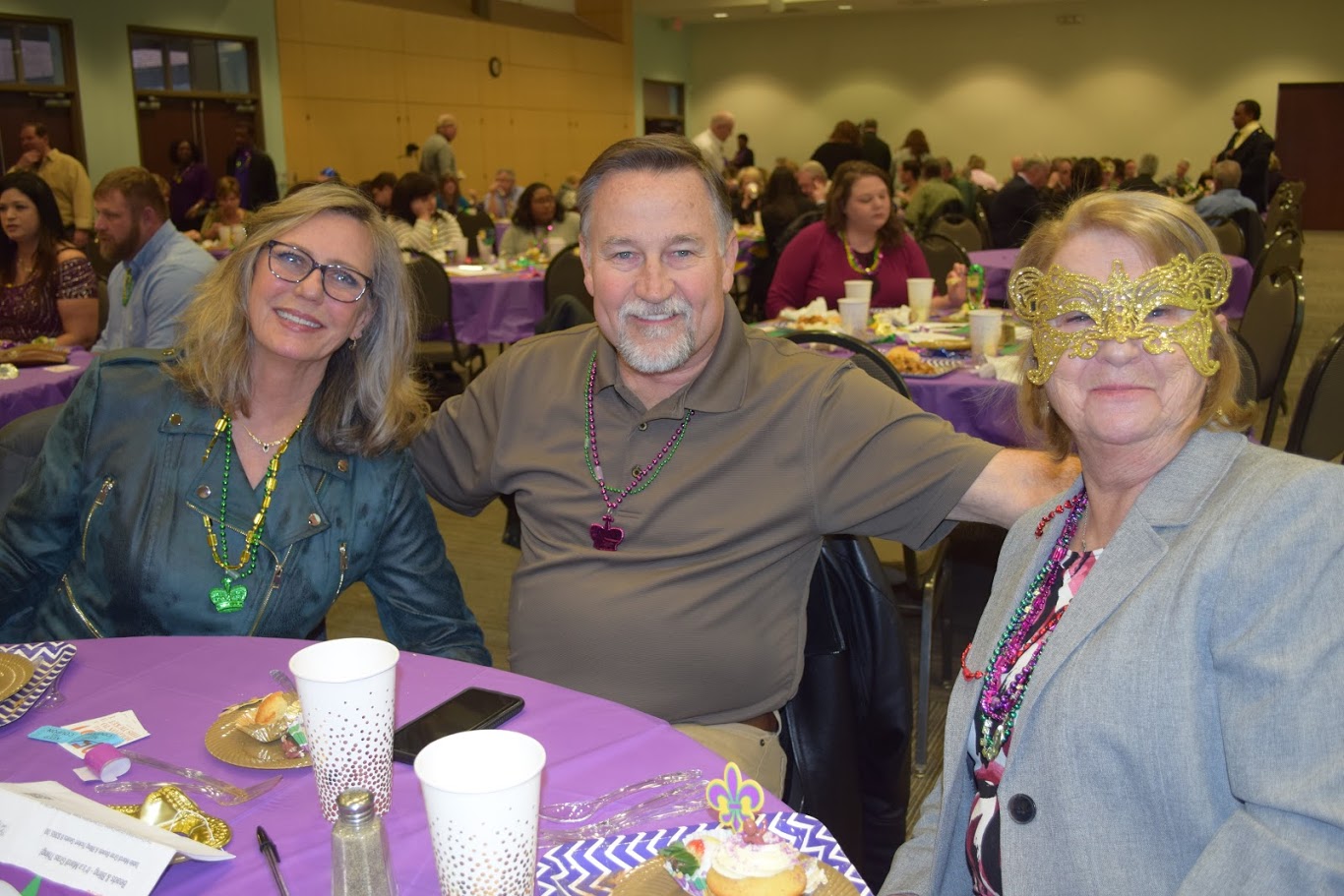 BY DEBBIE PAGE
debbiepage.iredellfreenews@gmail.com
Several hundred people gathered to enjoy a Mardi Gras-themed evening at the "Beads and Bling" fundraiser Thursday evening to benefit the Drug-Alcohol Coalition of Iredell and Piedmont Mediation Center at the Charles Mack Citizen Center.
Decked out in beads and masks, guests enjoyed New Orleans music, a signature, alcohol-free specialty drink, and a Cajun dinner of chicken and shrimp jambalaya on dirty rice, red beans and rice, salad, and rolls.
While enjoying a dessert buffet featuring king cake, cupcakes with a Mardi Gras baby or king, and macarons, the guests heard speaker Chuck Gallagher give a powerful talk on ethics, choices, and consequences.
Gallagher, a tax accountant who was convicted of tax evasion and embezzlement of clients' funds, lost everything — his job, friends, home, and marriage — because of his poor choices.
He considered suicide until a therapist he contacted late one night gave him a powerful idea that changed his life. He told Gallagher that though he had made a terrible mistake, Gallagher himself was not a mistake.
Gallagher realized he could rectify his errors by making financial restitution and by becoming a different kind of person through a different set of choices.
After serving a term in federal prison, he decided to not let the past define his future and to make positive choices that would lead to great consequences. Since he lost his accounting license, he took a job selling funeral plots door to door, becoming so successful that the company asked him to train employees. He rose to be vice president of sales and marketing.
Using audience ideas and responses, Gallagher showed how in a crisis situation, people's decision-making reverts to fight or flight mode, during which they can easily make poor choices that they can rationalize as acceptable.
Though audience members indicated they would not knowingly make an unethical choice, they also acknowledged unethical or harmful behavior that has become socially acceptable, such as cheating on spouses, cheating on taxes, gambling, drinking, or marijuana use.
"Each choice we make and each step we take provides the foundation for our future. Wherever you are right now — regardless of the circumstance — your choices define who you are and the outcomes you will live."
Now remarried, Chuck said he is living proof that people can start over and achieve success if they choose to use ethics and integrity in their choices.
ORGANIZATIONS
All funds raised at the event will benefit DACI, which is a 501(C)3 organization made up of dozens of representatives from various help agencies, area law enforcement entities, medical professionals, and city and county governments.
The group's website, available at http://daciredell.org, seeks to educate, engage, and empower Iredell County citizens. The group, founded in 2012, is "committed to the reduction and prevention of substance misuse, abuse, and overdose deaths."
Their focus is to build community awareness of substance use disorders, to educate parents, teens, and children about the dangers of misuse, and to prevent problems before they start.
The website provides information on the organization's governance, work groups, events, and ways to get involved with the coalition. The group's Facebook page is at https://www.facebook.com/Drug-Alcohol-Coalition-of-Iredell-557415357723605/.
DACI's next coalition meeting is on Monday, March 2, at 11 a.m. at the Iredell County Health Department at 318 Turnersburg Highway in Statesville.
Piedmont Mediation Center Inc. offers constructive processes for resolving differences and conflicts between individuals, groups, and organizations. It gives teens and adults in conflict the opportunity to take responsibility and resolve their dispute and gain control the outcome.
The nonprofit serves Alexander, Iredell, Davie, Davidson and Randolph counties.
Through dispute mediation and restorative justice processes, PMC can intervene to prevent conflicts from escalating by providing people with the knowledge and skills to settle disputes peacefully. The organization offers a number of programs to help youth avoid detrimental decisions or to help them get back on track after poor choices.
Mediation and restorative justice are critical components of community-based efforts to prevent violence and reduce crime. Resolving larger issues depends, to some extent, on how people learn deal with each other on a daily basis.
To learn more about PMC, visit http://piedmontmediation.com.