Special to Iredell Free News
Iredell County Sheriff Darren Campbell has been elected Third Vice President of the N.C. Sheriffs' Association at its 2020 Annual Summer Business Meeting in Raleigh.
Membership in the North Carolina Sheriffs' Association consists of all 100 elected North Carolina sheriffs.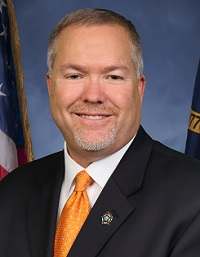 Campbell previously served as a sergeant of arms, member of the Legislative Committee and Auditing Committee for the N.C. Sheriffs' Association.
In addition to the new duties as the Third Vice President, Campbell is an elected member of the Board of Directors for the National Sheriffs' Association. He currently serves as a committee member of the Juvenile Jurisdiction Advisory Committee by appointment of the speaker of the N.C. House of Representatives.
The mission of the N.C. Sheriffs' Association is to serve as a statewide voice to protect, promote, preserve and enhance the Office of Sheriff in North Carolina through education, training, and legislative initiatives, which increase public safety and protect the rights of citizens of North Carolina.