BY DEBBIE PAGE
debbiepage.iredellfreenews@gmail.com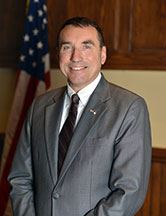 Iredell County Board of Commissioners Chairman James Mallory made a pitch during the recent Troutman Town Council meeting for public support of the School Capacity Bond referendum that will appear on the March 3 primary ballot.
In explaining the urgent need to support the bond to council members, Mallory noted that Iredell County's population increased 30 percent between 2000 and 2010 and 11.9 percent between 2010 and 2018.
Iredell County's January 2020 housing unit update indicates that 13,453 single and multi-family housing units already have been approved for construction, with 3,570 of those already complete.
Of these approved units, 6,760 are in the Lake Norman High School district, 3,249 in the South Iredell High district, and 3,218 in the Mooresville High district.
Only 124 units are planned for West Iredell High area, with 30 for North Iredell High and 72 for the Statesville High district.
Mallory pointed out that the county's $0.5275 property tax rate is the lowest of the 15 largest counties in the state, yet the county's school systems are nationally known for their excellence and diversity of educational opportunities for the students.
Those counties with tax rates lower than Iredell are on the coast or in the mountains, Mallory noted.
These areas have many second or vacation homes which do not place demand on school and county resources. Some areas also have tourist and hotel taxes that keep property tax rates lower.
Efficiency measures and negotiating lower interest rates allowed Iredell-Statesville Schools to save $21 million in debt reserve funds from the 2014 bond, which in turn lowered the amount of the bond being proposed to carry out the School Facility Task Force recommendations for the next 10 years.
For Iredell-Statesville Schools, the 2020 bond money would fund a new high school ($80 million) in the southeast part of the county. I-SS plans to use the debt reserve money the system saved from the 2014 school bond to add four to six classrooms at Lakeshore Elementary ($2,500,000), new vocational shops and repurposing the old shop ($1,750,000) at West Iredell High, and new CTE shops and physical education facility upgrades ($4,000,000) at Statesville High.
The additional debt reserve money saved would fund I-SS Contingency/Future Projects ($3,715,000) and complete 2014 Bond Projects ($1,000,000).
Mooresville Graded School District would build a new middle school ($35,038,405) with its share of the 2020 bond money.
With the saved 2014 debt reserve money as well as additional private loan money, MGSD will complete various upgrades, add a gym, increase parking, and purchase new furniture at South Elementary ($6,560,160).
In addition to renovations and upgrades at Parkview Elementary, the district will also add a gym and expand the school's cafeteria ($6,866,565) with debt reserve money and a private loan.
Mitchell Community College would fund construction of a new Public Safety training facility and a driving pad ($10 million) from the 2020 bond funds. The college would also get $2 million from the debt reserve funds to purchase additional property.
The school bond is a general obligation bond (GO) which is government bond backed through the credit and taxing power of the county's jurisdiction. This type of bond must be approved by voters and can only be used for the specific purpose indicated. The funds are closely audited and monitored throughout the project.
A GO bond has a lower interest rate, which over a 20-year bond could average savings of $3.3 million for taxpayers. Because Iredell County has a high bond rating, the county is able to take advantage of a lower interest rate.
If the school bond is not approved, the county and school systems will have to look at other ways to address current and future school capacity needs because the new housing units and children are still coming.
Among the solutions are adding temporary and expensive mobile units or resorting to redistricting and busing, which increases operational budgets for fuel, additional buses, bus drivers, and maintenance at the expense of other needs.
Funding reallocation to meet these school capacity needs means money will have to be diverted from capital, maintenance, and operational budgets and will result in current and future projects being delayed or eliminated.
Mallory also said that since interest rates are at an all-time low and the cost of construction continues to increase, any delay in building these school facilities will inevitably mean increased costs down the road.
Because the tax base has expanded, the cost of this bond is less for individual taxpayers. The 2014 bond resulted in a 4.25 cent tax increase, or about $3.54 per month on a home valued at $100,000.
In contrast, the tax rate increase on the 2020 bond will be only 1 cent, or about 83 cents per month (or $10 per year) on a home valued at $100,000.
LEARN MORE
To view Mallory's detailed presentation, visit: https://www.co.iredell.nc.us/DocumentCenter/View/14084/2020-School-Bond-Presentation-PDF