BY KARISSA MILLER
During this week's Iredell County Board of Commissioners meeting, Chairman James Mallory
explained what Phase I of Gov. Roy Cooper's reopening plan will look like.
And he reminded Iredell residents of the precautions they should continue to take to prevent the spread of COVID-19.
The chairman encouraged everyone to continue practicing social distancing and wear a face mask while out shopping for groceries and in other retail stores.
"It's the right thing to do for other people — not just yourself. It protects those employees who are exposed to everybody that walks through the door," Mallory explained.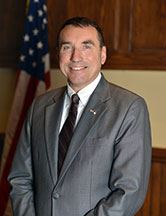 Executive Order 138 modifies the governor's initial stay-at-home order by loosening certain restrictions. The latest order removes the distinction between essential and non-essential businesses. It also allows retail businesses to open at 50 percent capacity while observing social distancing guidelines and extra cleaning.
Mallory reiterated that beauty salons, barbers, gyms and other businesses involving close contact are not permitted to reopen at this time.
Visitation at long-term care facilities, such as nursing homes, continues to be prohibited, he said.
Gov. Cooper is encouraging North Carolina State parks and trails to reopen and local jurisdictions are being encouraged to open their facilities. However, playgrounds will remain closed.
Mallory also provided a brief update on the letter that he sent to Cooper on behalf of the entire board. The letter asked the governor to consider allowing Iredell County to have local control of reopening the county's businesses.
Mallory specifically requested that close-contact service providers and other businesses currently closed by executive order be allowed to reopen as long as they follow CDC guidelines.
Commissioner Ken Robertson mentioned that the governor is watching trends and data as it pertains to the number of hospitalizations and cases.
At the time, there were only six people hospitalized with COVID-19 in the entire county, he said.
The county cannot remain shut down because that number has jumped from five to six people, he added.
"We are trying to do this in a measured and responsible way," Robertson said. "It doesn't make sense when the absolute numbers are in a good place."
Vice Chairman Tommy Bowles mentioned that state officials have acknowledged that some of the uptick in cases was due to more testing.
"The more testing you do, the more positive you are going to find," Bowles said. "That doesn't necessarily correlate with beds in a hospital."
LEARN MORE
• Visit the county's website at www.co.iredell.nc.us for up-to-date information on COVID-19, including the chairman's weekly video updates about the county's response to the COVID-19 pandemic.