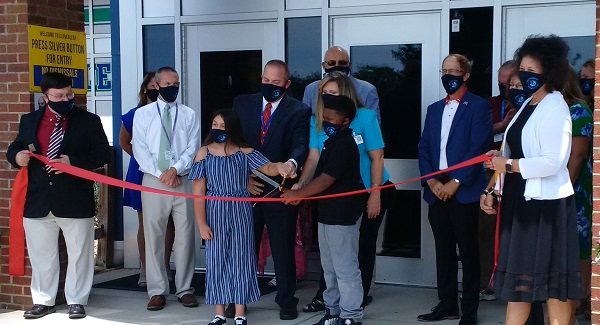 BY KARISSA MILLER
A concerted three-year effort by Cloverleaf Elementary School students, teachers, administrators, staff and parents culminated Tuesday with a celebration of the school's status as a newly accredited International Baccalaureate Primary Years Program.
A small crowd of community leaders, educators, students and school board members looked on as Principal Andy Mehall and former principal Alicia Cloer jointly cut a ribbon in front of the school to commemorate the moment.
"It's really an amazing feeling. When we first started this, we were all hesitant to start something so large, but the teachers and every staff member here worked really hard to get this program going," Cloer said.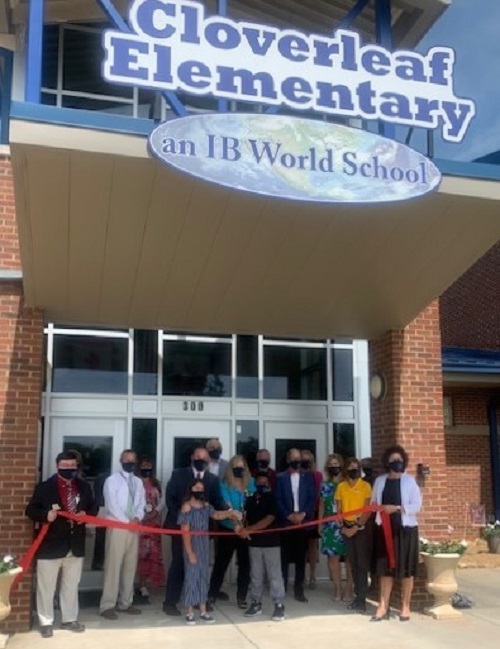 She also thanked Cloverleaf IB Allison Whitaker, who was instrumental in helping lead and provide a lot of structure with professional development.
Fifth-graders Stephanie and Kenan, who were selected by their teachers, helped with the ceremony. They have spent all of their years participating in the IB program as it started up.
Due to social distancing guidelines, the school also streamed the ceremony through the online platform ZOOM. The celebration will also be posted on the school's Facebook page.
Chuck Gallyon, the vice chair of the Iredell-Statesville Board of Education, told the crowd that he helped construct Cloverleaf, which opened in August 2009. The school focused on curriculum in math and science then.
Gallyon said he's excited and very proud about being a part of its future growth as a board member.
During the school's IB journey, art and graphics were gradually incorporated around and outside the school to give students an immersive, participatory experience in their global learning.
The IB program encourages students to increase their understanding of languages and cultures and explore global ideas and issues.
Some features include flags displayed from different countries, a wraparound mural of the seven continents and iconic landmarks in the atrium, ways to say hello in different languages and other special touches, which exceeded the expectations of many in attendance.
The Greater Statesville Chamber of Commerce has been supportive of the school's IB journey. Chamber President and CEO Shannon Viera attended the ceremony to celebrate the milestone.
"We have to have a lot of choice in our schools for businesses to move here. The more choices we can have — the better it is for everyone," Viera explained.
Business owners Melissa and Mike Neader are also big supporters of Cloverleaf and IB. While they don't have children who attend the school, they have rallied behind the school because they love their community and the kids there.
"It offers them every opportunity to have education that inspires them and gives them a worldwide perspective," Melissa Neader said.
"Education in the current environment with virtual gives them an opportunity to connect anywhere in the world, but to learn beyond the walls of one school can positively impact them," she added.
IB Continuum
While the IB program is mostly known for its high school-level courses, the IB PYP is the second elementary school of its kind in the Iredell-Statesville Schools district.
This will create a K-12 continuum in the southern and northern end of the county.
According to Superintendent Jeff James, the IB program is another way to prepare children for life in a global economy.
"Our students need the skills to compete in that economy. The IB program brings another level of academics into our wheelhouse that we can offer students," James said.