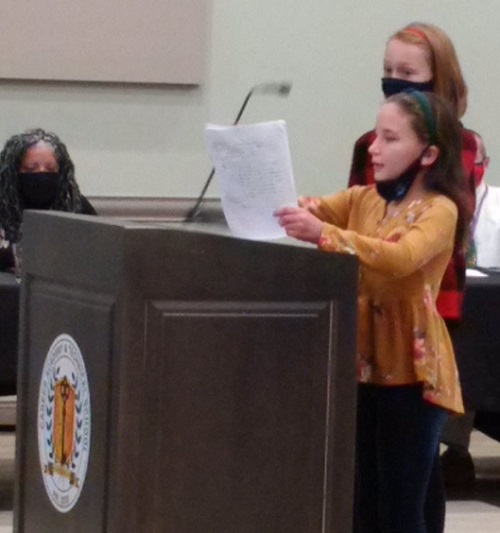 BY KARISSA MILLER
Unlike most fourth-graders, Sully Dobson and Lucy Caudill aren't afraid of public speaking.
On Monday evening, the duo made a presentation to Iredell-Statesville Board of Education members about their experiences at Cloverleaf Elementary, an International Baccalaureate School.
With the district's leadership team, teachers and parents looking on, Sully adjusted the microphone and introduced herself. Then Lucy began sharing information about the IB program.
"Being IB means opening our minds to different and new ideas, places, foods and cultures," she explained.
Students identify with specific learner profile traits, such as risk taker and open minded, as they engage in forming their own knowledge about their community and the world around them.
The IB curriculum serves as a framework and aligns with state standards and incorporates elements of the Leader in Me program as well.
Students also work together on community service projects and learn about ways to share their knowledge with others.
Lucy also shared examples of how Cloverleaf students have served their community.
"We have done penny wars where we collected over $1,800 for American Red Cross. We did 'S'October' where we collected over 150 pairs of socks for Fifth Street Ministries. We also made Christmas cards for veteran patients at the VA hospital," she said.
While similar information is routinely presented at school board meetings, the presentation is one of the few in which school board members hear directly from elementary students about their experiences with the IB program.
"We talk about community service quite a bit. The student council came up with the idea to present this to you. It was made specifically for you," Principal Andy Mehall told the board.
Afterwards, the students passed out cards that they made for the board.
Vice Chairman Todd Carver thanked the students for their presentation.
"Being willing to do this as fourth-graders is something to be bragged on. I appreciate you coming out and telling us something about your school," Carver said.
The students received a standing ovation from the school board and others in attendance.