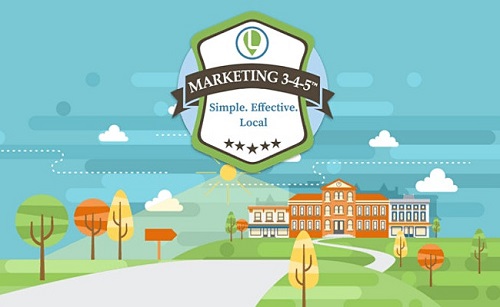 Special to Iredell Free News
Downtown Statesville Development Corporation, in partnership with the Greater Statesville Chamber of Commerce, Statesville Convention & Visitors Bureau and Griffin Insurance, have come together with Locable to offer a two-hour Marketing 3-4-5 Workshop in Downtown Statesville. The goal is to empower local businesses, nonprofits and civic organizations to better compete in today's digital landscape by becoming more effective at marketing without having to become experts at marketing.
"We had the benefit of meeting Brian Ostrovsky and learning about Marketing 3-4-5 at the NC Main Street Conference in March of this year," said DSDC Executive Director Marin Tomlin. "We knew that bringing it to Statesville to help our businesses come together to learn how to promote not only themselves, but the community, was a must. Thanks to our friends at Griffin Insurance we can bring the workshop to local businesses at a tremendous cost savings!"
As a result of Griffin Insurance's sponsorship, attendees can take advantage of this workshop for more than an 80 percent savings by using the promo code GRIFFIN at checkout.
"Griffin Insurance has been serving the Iredell community with insurance coverage since 1978", said Mike Griffin of Griffin Insurance Agency. "We understand small business and the need to support each other locally through marketing. Now more than ever, we are honored to partner with the community organizations in Statesville to help #TakeBackLocal."
Locable's Marketing 3-4-5 Workshop (Eats & Education) will be held at Twisted Oak American Bar & Grill on Thursday, August 27. To ensure the ability to socially distance and provide options for business owners, there are two sessions of this workshop at 10 a.m. and 3 p.m. with a meal served. Each occurrence is limited to 50 attendees. There is also a ticket option via Zoom. Attendees will be guided through a series of marketing exercises to create a marketing and content plan based on the Marketing 3-4-5 framework.
"Local businesses notoriously struggle with marketing, and it's getting worse. At a time when nearly every tech company, startup and big business is working against local, against communities. … We're equipping community organizations, businesses and nonprofits to #TakeBackLocal," said Locable CEO Brian Ostrovsky.
REGISTRATION
To register, small business owners can visit www.downtownstatesville.com/takebacklocal.