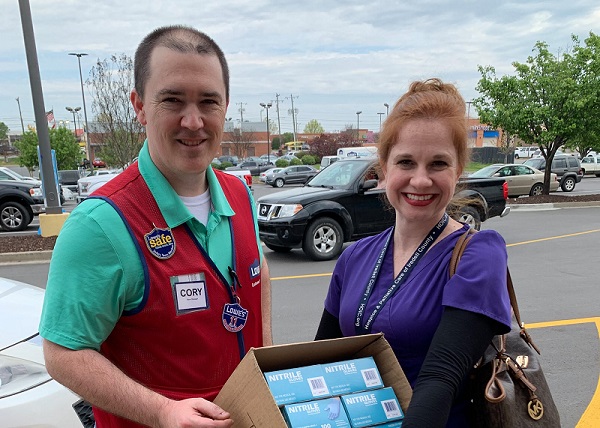 Special to Iredell Free News
As Hospice & Palliative Care of Iredell County has worked to adapt its care to best serve a patient population that is at highest risk from the Coronavirus, the community has stepped up to help keep staff members safe.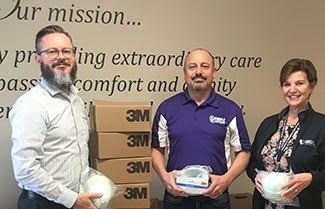 Just last week Lowe's Home Improvement donated boxes of much-needed gloves, and Purple Heart Homes provided masks. Church groups and volunteers began sewing, quickly creating a supply of cloth masks. These donations could not come at a better time as the nation's healthcare systems struggle with a shortage of Personal Protective Equipment.
"Keeping our staff safe and healthy is our top priority, so we can continue to serve our hospice and palliative patients in their homes, facilities and at the Gordon Hospice House," said Hospice & Palliative Care of Iredell County (HPCIC) CEO Terri Phillips. "Every patient we care for is at higher risk, and these donations from our community are so very needed and appreciated."
There is another very important way the community must support the wellbeing of hospice staff and patients, said HPCIC Medical Director Dr. Charles Frankhouser. Restricting visitors per Gov. Roy Cooper's Stay-at-Home Order, even for homebound patients, is essential to preventing the spread of the virus.
"We respectfully want to stress the importance of having only those who reside in a patient's home be present throughout the duration of this order," Frankhauser said. "The key to slowing the spread of COVID-19 is to limit contact as much as possible. These measures include restriction of friends and extended family members living outside the patient's home in order to protect the patient and hospice staff."
Restrictions on visitors to the Gordon Hospice House have also been put in place. No more than two immediate family members at a time are allowed to visit patients.
"We know this can be very difficult for families, especially as they are caring for a seriously ill loved one," Phillips said. "We are doing our best to allow for compassion for each patient's unique situation while protecting the safety of all families and staff at the Gordon Hospice House."
HPCIC has also begun using tools like telehealth technology, which allow social workers, chaplains and other care disciplines to conduct remote visits with patients and caregivers whenever appropriate.
Despite the additional precautions, Phillips said HPCIC wants to stress that its team is available for patients and families around the clock.
"We are here to support patients during this journey every day. Families can contact us at any time and we will do all we can to provide safe and compassionate care," she said.
LEARN MORE
For more information about Hospice & Palliative Care of Iredell County, visit www.HOIC.org or call 704-873-4719.