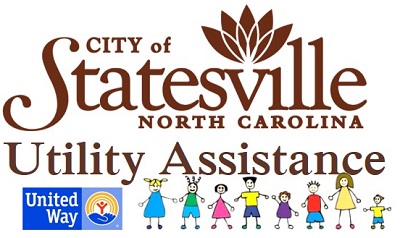 Special to Iredell Free News
The City of Statesville and United Way of Iredell are partnering in a Utility Assistance Program that will help Statesville residents with their utility bills, effective immediately.
Earlier this fall Statesville City Council allocated $100,000 of its portion of the Coronavirus Aid, Relief, and Economic security (CARES) Act to be used for utility assistance. The United Way has identified three of its agencies – Yokefellow, I-Care and Iredell Christian Ministries – to accept applications, screen applicants and distribute funds.
To qualify for assistance, recipients must live inside the Statesville city limits, confirm they have a past-due utility bill caused by the COVID-19 pandemic and have not received previous CARES Act funding for utility assistance. Funds are not restricted to only Statesville Utilities customers and can be used for payments to any utility that serves a qualified recipient.
The deadline for receiving funds is December 31, 2020. Statesville residents can begin applying for assistance immediately:
♦ I-Care: 1415 Shelton Ave., Monday-Wednesday-Friday, 9 to 11 a.m. and 1 to 3 p.m.
♦ Iredell Christian Ministries: Call 704-924-6700 for an appointment; Monday-Wednesday, 8 a.m. to 2 p.m.; Thursday, 8 a.m.-4 p.m.; Friday, 8 a.m. to 12 noon
♦ Yokefellow: Call 704-872-7677 for an appointment, Monday-Thursday, 10 a.m. to 2 p.m.
Please note that these agencies will be closed Thursday and Friday for the Thanksgiving holidays.
"We are extremely fortunate to be working with the United Way on this project," said Statesville City Manager Ron Smith. "They have put in a lot of time to get this off the ground. I know it's going to make a big difference."
United Way of Iredell Executive Director Brett Eckerman also expressed his gratitude for the partnership with the City of Statesville staff and Council.
"This collaboration will assist many in our community who have been negatively impacted by COVID-19 disruptions as they work to get back on their feet," Eckerman said.