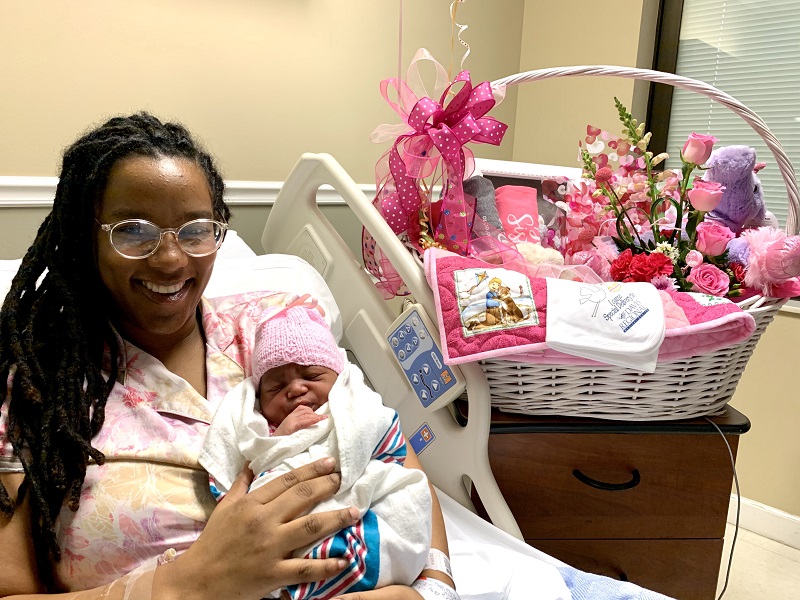 Special to Iredell Free News
The Special Delivery Department at Davis Regional Medical Center welcomed Iredell County's first baby of the New Year.
Haile Trinity Page entered the world at 4:37 p.m. on Wednesday, January 1, 2020.
Baby Haile, the fourth child of Statesville residents Michelle and Chris Page, weighed 8 pounds, 4 ounces and was 20 inches long.
When asked about having the first baby of 2020 in Iredell County, Mom Michelle said, "We are super thankful we had our baby at Davis Regional Medical Center. Staff was amazing here and we could not have asked for a better birthing experience."
As a congratulatory gift, the family was given a basket filled with items from shops and services in the Statesville community. Brookdale Flowers & Gifts provided the basket, balloons and flowers. In addition, the family received a one-hour rejuvenation facial from Beth & Company, baby book and stuffed bunny from GG's of Statesville, Mary Kay Satin Hands set from consultant Tawana Maxfield, a 30-minute family session by Michelle Taylor Photography, a Doterra essential oil gift pack and teething clips from Natural Beginnings Birth & Wellness Center, Embroidered Thirty-One Gift Bag from consultant Sharon Spears, and a large gift set from Davis Regional complete with a handmade quilt.
About Davis Regional Medical Center
Founded in 1920, Davis Regional is a 130-bed, full-service hospital serving Statesville and the surrounding counties. Davis Regional offers a wide range of health care services, with more than 300 physicians on staff in a variety of specialty areas. In addition, Davis Regional has been a Joint Commission Top Performing Hospital for the past five consecutive years. Only 1,043 – or approximately one-third – of eligible U.S. hospitals achieved this distinction. Davis Regional is one of just 117 hospitals to have earned this accomplishment for five consecutive years. Learn more at www.DavisRegional.com