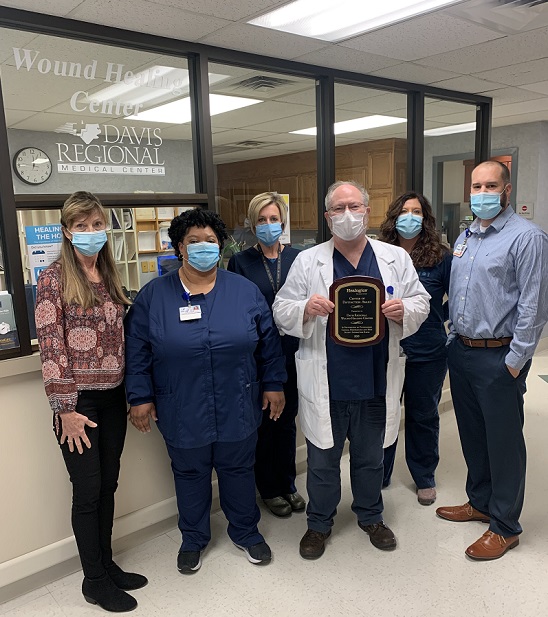 Special to Iredell Free News
Davis Regional Medical Center's Wound Healing Center was recently presented the Center of Distinction Award by Healogics, the nation's largest provider of advanced wound care services
The Center achieved outstanding clinical outcomes for twelve consecutive months, including patient satisfaction higher than 92 percent, and a minimum wound healing rate of at least 92 percent within 28 median days to heal.
There were 601 centers eligible for the Center of Distinction award and 367 achieved the honor.
"Wound healing is a complex biological process that requires expertise, resources, and diligence to obtain results," said Davis Regional CEO Josh Snow. "This team has a proven track record of healing chronic wounds, with a reduced chance of amputations or other health complications. Allowing patients to return to their previous lifestyle with education and a managed plan is the top goal of their mission"
The Wound Healing Center at Davis Regional is a member of the Healogics network of over 600 centers and provides access to benchmarking data and proven experience treating approximately 2.5 million chronic wounds. The Center offers highly specialized wound care to patients suffering from diabetic ulcers, pressure ulcers, infections and other chronic wounds which have not healed in a reasonable amount of time.
Leading-edge treatments at the Center include negative pressure wound therapy, total contact casting,
bio-engineered tissues, biosynthetic dressings and growth factor therapies. The Center also offers hyperbaric oxygen therapy, which works by surrounding the patient with 100 percent oxygen to help progress the healing of the wound.
Davis Regional's Wound Healing Center is led by a team of physicians. Serving with Dr. Alan Keys are Dr. Rachel Rader, Dr. William Bicket, Dr. Andrew Schneider, Dr. Samuel Inkumsah, and Dr. Natalie Martinez-Jones.
"Davis is grateful to have received this award for the past five consecutive years. We are also proud to be the only hospital in Iredell County to receive the award for 2020!" said Center Director Jason Faulkner.
LEARN MORE
For more information on the Wound Healing Center, call 704-838-7461. Same day appointments are often available and patients can self-refer.
About Davis Regional Medical Center
Founded in 1920, Davis Regional is a 130-bed, full-service hospital serving Statesville and the surrounding counties. Davis Regional offers a wide range of health care services, with more than 300
physicians on staff in a variety of specialty areas. In addition, Davis Regional has been a Joint Commission Top Performing Hospital for the past five consecutive years. Only 1,043 – or approximately one-third – of eligible U.S. hospitals achieved this distinction. Davis Regional is one of just 117 hospitals to have earned this accomplishment for five consecutive years. Learn more at www.DavisRegional.com.