BY DEBBIE PAGE
debbiepage.iredellfreenews@gmail.com
The Drug-Alcohol Coalition of Iredell honored its outgoing chairperson for her two years of leadership and announced plans for two upcoming fundraising events during its January meeting. The nonprofit also revealed plans to add sharps containers at three county medication disposal sites.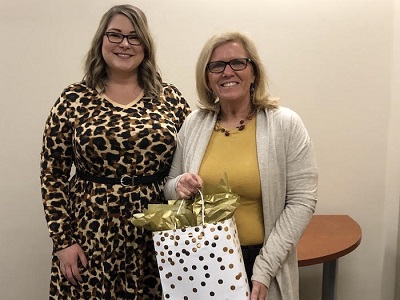 Sandy-Tabor Gray served as coalition chair for the past two years in a crucial time of growth for the organization. In addition to adding a full-time coalition coordinator using funds provided by the Statesville ABC Board, the Iredell County Health Department, and Partners Behavioral Health, DACI received funding from the Mooresville and Troutman ABC Boards to support ongoing initiatives.
Tabor-Gray also led the development of the first coalition budget and helped in the process to certify DACI as the non-profit corporation Drug-Alcohol Coalition of Iredell Inc.
While presenting her with an appreciation gift, DACI Coordinator Jill St. Claire praised Tabor-Gray's strength, passion, and commitment to eradicate addiction in the community. She also praised the former chair's empathy with those on the journey to recovery as well as her work to bring greater awareness of substance use and to reduce the associated stigma in the community.
NEW CHAIRPERSON
Fifth Street Ministries Director Patti West assumed leadership of DACI at the January meeting. Noting that the seeds of DACI began 10 years ago with herself and a group of others talking about the county's addiction problems, West praised the efforts of members to address treatment needs and eliminate the stigma associated with addiction.
"We are far down the road from where we were 10 years ago, but we still have miles and miles to go," West added.
West praised Iredell County leaders and citizens who have put the county far ahead of most others in North Carolina to address addiction issues. She especially recognized the efforts of County Commissioner Tommy Bowles, Iredell County Health Department Director Jane Hinson, and Mooresville Mayor Miles Atkins because "it takes people in positions of power to move us forward."
Noting many Iredell residents were affected in some way by drug and alcohol misuse and addiction, West said that DACI's efforts cannot slow down. She is alarmed at the uptick of methamphetamines, now imported from Mexican cartels instead of cooked locally, among clients she sees at the Fifth Street shelter.
"We are helpless to find treatment for this because no one knows how to deal with it. This is yet another challenge on the horizon that seems really hopeless and scary right now," she said.
The addiction is so powerful that users were not interested in treatment services offered, West explained.
With more meth overdoses now occurring, West hopes the county and state can begin tracking this increasing threat and come up with some strategies to combat it.
"Meth scares me. People get addicted the first time they use it. It's a force like I've never seen before. We cannot stop them."
Detective Sergeant Bill Hamby of the Iredell County Sheriff's Office agreed about meth's powerful effect on users. He said that one 20-year-old woman they arrested likened meth's effects to "having sex 24 hours a day."
Tabor-Gray mentioned the powerful 2018 film "Beautiful Boy," based on the best-selling memoirs from father and son David and Nic Sheff, which depicts the heartbreaking and inspirational experience of survival, relapse, and recovery following years of the son's meth addiction and its affect on their family.
West also challenged DACI to become bolder in its outreach and education, addressing public safety issues like needle exchange and medication misuse.
"We need to take another step. Everything we have done so far has been safe. We need to step out of our comfort zone and get on the same page to go further to reach addicts and their families," she said.
"We still have a lot of work to do. My hope is that as we continue to grow as a coalition that we learn that individually it's up to us speak out in tough situations. There are times when it doesn't pay to be nice and not want to hurt somebody's feelings if it's going to save a life — not just from death but from pain and hurt."
St. Claire noted that combatting addiction issues starts with mental health.
"We need to raise strong, healthy children so they don't get to that point. Happy, functioning people don't start to use. Early interventions, along with treatment and recovery and mental health resources, are important."
"We cannot parent the way we were parented," added St. Claire. "In the past 20 years, there has been drastic societal and technological change, so parents need to adapt as well."
Susan Smith of Piedmont Mediation noted that teens' social and other anxieties, which often are not shared with parents, sometimes start them on the path of substance use, especially when movies and media glamorize escape from problems through drugs and alcohol. Use often starts when they get a pill from a friend or a medicine cabinet to cope with their anxiety or stress.
West noted that reducing the stigma of getting mental health treatment is important to solve problems before people turn to escape mechanisms like drugs or alcohol.
Several participants also brought up the widespread vaping problem among teens that DACI must address in coming educational events. St. Claire worries that the proposal to raise to 21 the minimum age to purchase vaping products will drive teens to the black market to get vape chemicals, making their contents potentially more dangerous.
FUNDRAISING EVENTS
DACI was selected as one of the nonprofits to participate in the Love United Iredell online fundraising event running February 10-24. This United Way fundraising competition hopes to unite the community around local causes and nonprofits.
Through the use of media and community outreach, Love United Iredell will raise money through the online UW donation platform for proposed nonprofits' projects costing $5,000 or less. Each gift is 100 percent tax-deductible.
The participating nonprofits will compete for points to earn matching and bonus funds through the Love United, competing in areas such as the number of individual donors during the campaign, social media shares, Facebook Live posts, and tags to @UnitedWayofIredellCounty using the hashtag #LoveUnitedIredell.
United Way of Iredell County will collect and process all donations, which must be submitted by February 29 to qualify for the incentive match. Matching funds will be allocated proportionately based upon the total amount of donor designations.
DACI and other participating organizations will receive their Love United Iredell campaign fund distributions by March 15. Funded projects must be completed and reported back to United Way of Iredell County within six months.
For more information, visit https://uwiredell.org/love-united-iredell/ and follow https://www.facebook.com/UnitedWayofIredellCounty/
On February 27, DACI, along with Piedmont Mediation, will have a "Beads and Bling" Mardi Gras-themed event at the Charles Mack Citizen Center in Mooresville. The event will feature Cajun food, an array of desserts, door prizes, raffles, a DJ, and other entertainment. Specially crafted non-alcoholic drinks will also be featured.
Motivational speaker Steve Gilliland, a brilliant comedian and a member of the Speaker Hall of Fame, will be featured at the event. This master storyteller can be heard daily on SiriusXM Radio's Laugh USA and Jeff & Larry's Comedy Roundup.
Using a humorous approach, Gilliland shows audiences how to open doors to success in their careers, their relationships, and their lives. Presenting to over 250,000 people each year, he has spoken to more than 2 million people in all 50 states and in 15 countries.
Through his words, Gilliland "not only challenges people to change, he motivates them to do so." He is also the author of four books: "Enjoy The Ride," "Making a Difference," "Hide Your Goat," and "Detour."
Three hundred tickets are available for the "Beads and Bling" event at $50 each, $95 per couple, or $365 for a table of eight. Visit http://DACIredell.org and https://www.facebook.com/Drug-Alcohol-Coalition-of-Iredell-557415357723605/ for the release of ticket purchasing information in the coming weeks.
SHARPS CONTAINERS
Detective Dan Miglin of the Mooresville Police Department said the DACI Legal and Law Enforcement Committee helped get a grant from state opioid response funds to add three sharps containers to prescription drug drop boxes at the Statesville Police Department, the Mooresville Police Department, and Iredell Memorial Hospital (IMH).
IMH will collect and dispose of the collected syringes and needles. The boxes have been ordered, and Miglin hopes all will be installed by the end of March.
If the sharps box trial has a positive response, Miglin hopes DACI will budget to add additional sharps containers to other drop box locations around the county. These dangerous sharps now end up in the drug drop boxes and in trash cans and landfills, creating an infectious danger to the public.