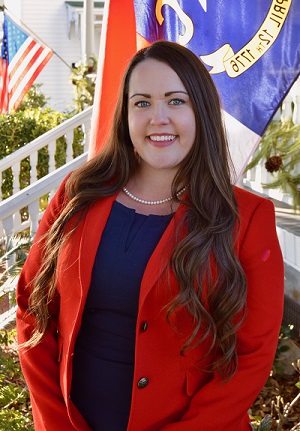 Special to Iredell Free News
Susan Ervin believes her experience serving others, her love for her community and wide-ranging legal practice have prepared her to sit on the bench as a District Court judge in District 22A, which is comprised of Iredell and Alexander counties.
Ervin, a Republican, said the theme of her campaign leading up to the March 3 election is "A Commitment to Service." The winner of the election will begin a four-year term in January 2021.
"I have been serving this community through nonprofit and civic organizations for most of my life and being elected to the bench will allow me to continue that commitment to service," she said in a news release.
Ervin currently serves on the boards of four nonprofits. She is vice president and a founding member of Child Advocates of Iredell and Alexander Counties, chairperson of SCAN of Iredell, president-nominee for the Rotary Club of Troutman, and a board member of Highland Canine Connect.
A native and lifelong resident of Iredell County, Ervin lives in Troutman with her husband and their beloved Basset Hound, Louie. Raised in a blue-collar family, she said a strong work ethic was ingrained in her at a young age.
Ervin graduated third in her class at South Iredell High School and earned a Bachelor's degree in Political Science, with cum laude honors, from the University of North Carolina at Charlotte. She received her Juris Doctor degree from Charlotte School of Law in 2011 and was recognized with pro bono honors for her work with North Carolina's Guardian ad Litem Program.
"I put myself through college and law school working in the restaurant industry," she said. "I can remember taking textbooks to work so that I could study the law while waiting tables."
Ervin ran a private practice for over six years, serving clients in family law, criminal defense, personal injury, juvenile law, and various special proceedings.
"I've practiced in every setting of District Court and appeared in 11 counties across the state."
In addition to her general practice, Ervin has worked as the attorney advocate for the Rowan County Guardian ad Litem Program for nearly six years and the attorney advocate for the Iredell County Guardian ad Litem Program for two.
"I love this community and the people in it," she said. "Every day, I attempt to have a positive impact on every person I encounter and that would be no different from the bench. I would be fair, compassionate, and stern as needed. My legal and life experiences have given me varied perspectives and make me the best candidate for this district court seat."
Among her priorities are improving the efficiency of Juvenile Court and ensuring that the court system achieves permanency for children in a timely manner.
"The most vulnerable population of children in our community should not languish in the system. In domestic cases, I would craft rulings meant to preserve and unify families," Ervin explained. "In criminal court, some cases will require harsh punishments for repeat offenders and others will allow me the opportunity to refer individuals to needed mental health and substance abuse resources.
"Finally, I promise to always seek to protect our Constitution and rule of law, never legislating from the bench."
LEARN MORE
For more information, contact Susan directly at susanmervinforjudge@gmail.com, visit susanfornc.com, or follow her on Facebook.