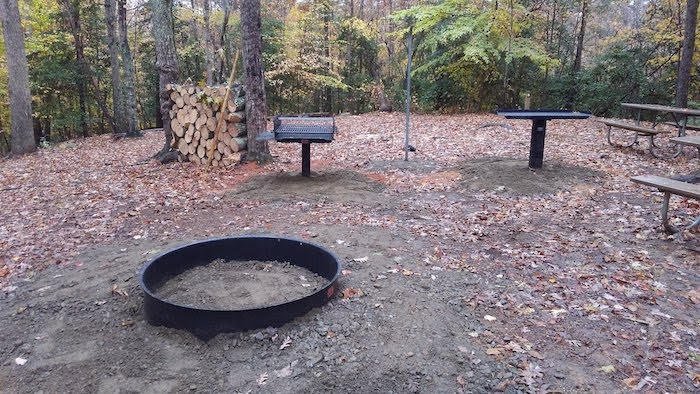 FLANO renovated two group campsites and will continue improvements in February.
BY DEBBIE PAGE
debbiepage.iredellfreenews@gmail.com
The Friends of Lake Norman State Park (FLANO) is finishing up its second year of serving the park with various projects and activities as well as celebrating the recent receipt of two large grants for further park enhancements.
REI GRANT
Recreational Equipment Inc. (REI), a provider of top-quality gear and apparel, expert advice, and rental equipment, uses proceeds from every purchase to steward the outdoors, support sustainable business, and help the fight for life outside.
In that effort, REI awarded FLANO a $6,000 grant to help support renovations at the group campground at Lake Norman State Park. The improvements include the installation of large cooking grills, stoves, preparation tables, and large fire rings in the five sites of the group camp.
The new amenities make the campsite more comfortable and usable.
Park staff is assisting FLANO by moving the new equipment to the area, pre-drilling some of the holes, and providing the lumber and stakes to support the posts while the concrete is curing.
REI not only provided the funding for the purchase of the materials and supplies but also provided many of the volunteers for the installation in Sites A and B. FLANO is grateful to REI's Joy Shuck, a tremendous supporter of both the organization and the state park.
The work will continue on the other campsites when the weather moderates in late February.
HEP GRANT
The Catawba-Wateree Habitat Enhancement Program (HEP) also awarded FLANO a $6,075 grant to eradicate invasive species and to plant native grasses and trees in two areas overcome with kudzu and privet. Park staff and volunteers will do the work over the next few months.
HEP is a cooperative initiative by Duke Energy, the N.C. Wildlife Resources Commission, and the S.C. Department of Natural Resources.
The project will enhance the park's habitat through eradication of invasive species and their replacement with native plants and trees on approximately 8 acres of land in the park — 5 acres near or adjacent to Wildlife Road that drain into Hick's Creek and 3 acres Clark Cove Road that drain into Norwood Creek. Both creeks flow directly into Lake Norman.
FLANO members and other volunteers will partner with park staff to cut the invasive plants, remove them by burning or chipping, and then treat the stumps with glyphosate, using direct application to prevent chemical runoff onto the land.
After removal of the invasive species, FLANO members will replace the vegetation with native Mellow Marsh Farm stabilization seed mix and 40 to 50 trees, including black cherry, red and white oaks, and maples for a healthy hardwood mix. Stabilizing the drainage area using native plants and trees will prevent erosion and reduce sedimentation through good forest management.
The project will require an estimated 400 hours of volunteer and park staff time to complete.
The project will improve and protect the park's habitat for a variety of species dependent on a forested environment, which is especially important considering the pace of increased development and diminishing natural habitat in the larger surrounding Lake Norman region.
OTHER FLANO ACCOMPLISHMENTS
The Friends of Lake Norman State Park chapter was formally chartered under the Friends of State Park umbrella in April of 2018 after several meetings of interested community members with then- Lake Norman State Park Superintendent Greg Schneider. Since then, the group has put in over 820 hours volunteer hours in addition to sponsoring a number of fun activities for park visitors.
Since its inception, the group has partnered with GET FIT IREDELL for a Pick Your Fun Day, provided meals and support to the Bio Blitz study of the park's natural environment, hosted a local history speaker, assisted with star gazing parties, and sponsored hikes.
The group also installed a Little Free Library in the Family Campground area, helped complete mountain bike trail repairs, and volunteered at a Tarheel Trailblazers Bike-a-thon that raised almost $10,000 for bike trail upkeep and expansion at the park.
FLANO volunteers also constructed and installed fishing line recycling containers, held several park clean-up days, recycled nearly 500 pounds of metal recovered in the park, and helped demolish and haul away small dilapidated structures. The group also assisted the park staff during Public Lands Day and the Smoke on the Water events.
HIKES
Schneider, who is now retired and a member of FLANO, led a series of hikes last fall and plans more this spring. The first will be a Discovery Hike on Saturday, February 8, from 10 a.m. to noon.
Those interested in experiencing this expert guide's knowledge of the park and its species should meet at the Visitor's Center to begin the hike. Participants should bring drinking water and dress in layers for the weather. They should wear sturdy, comfortable shoes or hiking boots to walk the terrain.
UPCOMING EVENTS
Anyone interested in preserving and protecting Lake Norman State Park and its wonderful assets is welcome to join FLANO and take part in its many volunteer projects as well as fun park and FLANO activities!
DATE/TIME/START LOCATION
♦ Feb. 5, 6 p.m. — FLANO Member Meeting @ Visitor Center
♦ Feb. 8, 10 a.m. — Discovery Hike @ Visitor Center
♦ Feb. 15, 9 a.m. to noon — Invasive Species Eradication Workday @ Visitor Center
♦ Feb. 22, 9 a.m. to noon — Group Camp Renovation Workday @ Group Camp
♦ Feb. 29, 9 a.m. to noon — Invasive Species Eradication Workday @ Visitor Center
♦ March 4, 6 p.m. — FLANO Member Meeting @ Visitor Center
♦ March 7, 9 a.m. to noon — Invasive Species Eradication Workday @ Visitor Center
♦ March 14, 9 a.m. to noon — Habitat Enhancement Planting Workday @ Visitor Center
♦ March 28, 9 a.m. to noon — Habitat Enhancement Planting Workday @ Visitor Center
♦ April 4, 10 a.m. — Annual FLANO Membership Meeting/After Meeting Hike @ Visitor Center
♦ May 3, 2 to 5 p.m. — GET FIT IREDELL/FLANO Free Family Fun Day @ Visitor Center
FOR MORE INFORMATION
♦ To learn more or join FLANO online, visit the FLANO website at https://www.friendsoflakenormanstatepark.org
♦ To keep up with the latest FLANO and park activities, like FLANO on Facebook at https://www.facebook.com/FriendsofLakeNormanStatePark
♦ Lake Norman State Park website: https://www.ncparks.gov/lake-norman-state-park/home
EDITOR'S NOTE: Debbie Page is a FLANO board member.